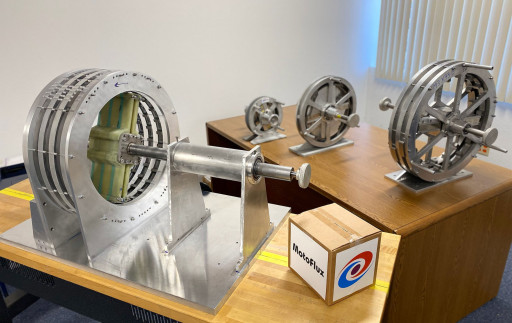 Long-time EV proponent Mike Corbin blazes a new trail in the creation of rotational torque.
HOLLISTER, Calif., February 16, 2023 (Newswire.com) - Long considered the Holy Grail of clean energy, the elusive magnet motor has remained more the fodder of legend than the future of energy. That may have changed now that California startup Motoflux Inc. has announced a functional proof-of-concept motor that generates rotational energy directly from permanent magnets. Founded by motorcycle and EV industry veteran Mike Corbin, this milestone marks what is sure to become a paradigm shift in motor development and green power.
"The idea of Motoflux is that we want to extract power from the force stored in permanent magnets. The Motoflux principle gives us a way to get a magnetic field to rotate and give us torque.

"Think of the potential of removing most of the battery mass of all those electric cars and minimizing the carbon footprint (of battery production)."

-Mike Corbin

Inventor / CEO
The Corbin Motoflux principle uses a unique, three-component design incorporating a radial director that distorts the magnetic lines of flux in the armature. As the flux lines seek to shorten and tighten, the armature is drawn forward to the next closest pole tip of the stator. As a result, the Motoflux motor has shown a torque output increase of 4 - 25 times over input. These gains, Mr. Corbin explains, are produced solely from the power of the permanent magnets inside the Motoflux motor.
Requiring a significantly lower level of energy input to operate, the Motoflux motor consumes a fraction of the power required by current electric motor designs and, therefore, needs less energy storage. With more than two million electric cars already on the road in the U.S. and the potential for low-cost stationary generators, the environmental implications are staggering.
The Motoflux principle is now available for license, so motor engineers around the world can design highly efficient powerplants for their specific needs. As the next logical step in the evolution of motor design, this groundbreaking powerplant offers simple manufacturing with minimal components and is highly scalable. Media and other interested parties are encouraged to contact Mike Corbin at the included information.
Inquiries & Media Contact
Mike Corbin, CEO
2360 Technology Pkwy
Hollister, CA 95023
United States
800-538-7035
Images and Video assets are available in our Media Center.
Contact Information:
Mike Corbin
CEO
[email protected]
8005387035
Greg Hurley
Marketing
[email protected]
831-634-1100
Related Files
motoflux_logo_large.png
motoflux_numbers.jpg
Original Source:
Motoflux Inc. Proves Their Newly Patented Device Generates Power Utilizing Only Permanent Magnets