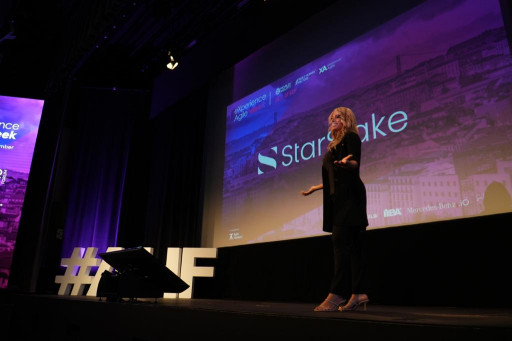 StarStake at World Agility Forum
Maria Matarelli presents StarStake Agile Workflows at the World Agility Forum, in Lisbon Portugal, to companies such as Toyota, Chevron, Lego, GE, and more.
LOS ANGELES - January 13, 2023 - (
Newswire.com
)
StarStake is ready to connect creators and their fans with a new Web3 marketing model. Now creators and fans can be fairly compensated for their value. In the traditional model of social media, traditional publishers, and record labels, creators are rarely fairly compensated for their work. Social media companies take much of the advertising revenue and only pay the creator what the company wants to pay. In reality, only the top tier of social media creators end up receiving adequate pay for the revenues their content generates. Traditional publishers and record labels take the revenues from the sales and only pay the creators a small percentage. StarStake's economic model features no centralized company holding funds. It allows both users and creators to use the full feature-set of the platform and build all utility NFTs and personalized pages with no monthly costs. StarStake works off of a percentage of sales generated and only earns a percentage when a sale of a product on the platform occurs. Unlike other social media platforms, publishers, and record labels that only pay royalties, the StarStake economic model allows creators to keep more of their earnings.
"The big tech and centralized platforms out there have a monopoly on the content, privacy, and audiences. The creator floods their platform with high-value content with little in it for the creator," says Hawk. "Also, what's in it for the subscribers? They loyally support their favorite stars and associated brands, sharing their content, and yet never see any rewards of that success themselves. We're here to change all that." 
StarStake has its sights set on changing the public perception of NFTs from just collectible, digital art images to functional key cards and tokenized memberships that connect creators with their communities, allowing them to reward supporters in innovative ways. StarStake aims to deliver a range of tools to create NFTs for the 'real world'. Now creators of all kinds: athletes, musicians, artists, podcasters, and influencers, as well as businesses and brands, can harness NFT technology as a new tool to market, advertise and interact with their communities. 
StarStake goes beyond creators having 'subscribers' to having 'stakers' who are independent members of the creator's community on StarStake. The 'stakers' are stakeholders in the creator economy fostered by StarStake who can benefit in new ways. Creators use StarStake to bring exposure and support to projects in exchange for giving stakers exclusive access and rewards. Creators can also grant access to physical or digital products, all encoded into the smart contracts of the NFTs themselves. StarStake allows users to create with only minimal tech skills, without touching any code or needing to have any prior Web3 knowledge. StarStake allows both users and creators access with no monthly charges, making this a star-studded sandbox for creators of all ilk. 
"Roads? Where we're going, we don't need roads," says CEO and cofounder Chris Hawk, quoting Doc's famous line from Back To the Future. Instead of having a roadmap of their future plans, the team at StarStake has the platform already built, while using more of an Agile approach, listening to feedback in the market and responding to market needs.
"Many Web3 projects have roadmaps that, due to a range of factors, end up not leading 'anywhere,'" says Hawk. "StarStake is for brands and creators to build independent Web3 economies and turn subscribers into StarStakers."
For those new to all this NFT talk, gone are the days of 'right click, save.' Now to truly own an image, you have to be the owner of its contract address on the blockchain. Beyond collectible art, much of the true potential for utility of this technology has remained untapped.
"Our goal isn't to make another digital platform or collection of art," says Hawk. "There are enough of those out there. StarStake is harnessing the utility of NFT technology to build deeper, more meaningful connections between artists and their audiences in the real world." 
At launch, StarStake will feature several new utility NFT technologies. NFT Bucks are StarStake's in-app NFT currency that works as branded advertising and is used as a method of payment to make purchases. Access NFTs function like access cards that can be used to redeem products such as merchandise, event tickets or digital downloads. sNFTs or StarStake NFTs, can be used to allow holders to unlock rewards and special perks and privileges by supporting and sharing a brand, product or project. Imagine a tiered members club for the Web3 era, branded to the creator, where stakers are incentivized to spread the creator's message to redeem a variety of exclusives. As a creator, they can build a number of differently priced packages complete with included Access NFTs. 
"Now true fans get rewarded as their favorite star's economy grows and in turn, a rising star gets both deeper loyalty and exposure from their rewarded fans. No more empty 'comment, like, and share' with nothing in it for the community. It's the leg-up so many creators need and the rewards fans have long deserved," says Hawk. "Creators can now focus full-time on their passions instead of squeezing them between other obligations."
StarStake's advanced utility NFT technology and personalized pages aim to be no more complex than updating a few blog posts and involves selecting from dropdown options, flipping toggles, using sliders, writing text, and uploading photos and videos.
StarStake has gone to great lengths to ensure that users new to the Web3 and NFT space will enjoy an intuitive, frictionless environment. 
StarStake's dashboard called StakeHub allows users to see their NFTs and track royalties and rewards paid to them. StarStake aims to give its users transparent access to all the tools they need to manage their own decentralized economy.
"We have some exciting features at launch that the team is very proud of," says Hawk. "We're excited to unveil new industry-first innovations coming up next for StarStake. Features that bridge the digital and physical world in meaningful ways and support growing brands."
For holders of the Mission Series One NFTs, there will even be a Ready Player One-inspired mixed-media, interactive game and treasure hunt with hidden clues, ciphers, and keys to find. Players are encouraged to squad up to solve the riddles, promoting a culture of collaboration.
"The team here at StarStake has a shared love for storytelling. We've brought this to all aspects of the platform, giving it a space-themed lore and backstory. Taking inspiration from Iron Man, even our support assistant is a fully animated A.I. character named VELLE — your Vocally Enhanced Logistics Liaison for Everything," says Hawk. "We don't simply want people to use StarStake as a technology. We want them to become StarStakers and have an immersive, story-rich and community-driven experience."
Look out for StarStake launching Q1 2023.
Media inquiries contact: [email protected]
Contact Information:
Christopher Kapzynski
Chief Marketing Officer
[email protected]
(928) 460-1828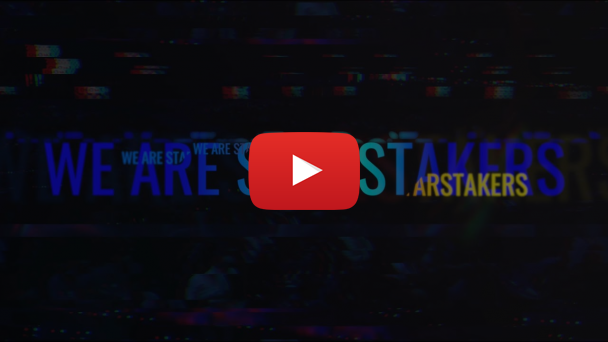 Press Release Service by
Newswire.com
Original Source:
StarStake: On a Mission to Go Where No Web3 Platform Has Gone Before