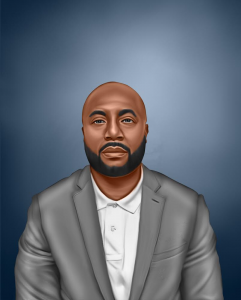 Writer and Creator talks about working on the animated comedy pilot "Fish" along with Stephen Colbert's "Our Cartoon President" Digital Animator
DENVER, COLORADO, UNITED STATES, July 18, 2023/EINPresswire.com/ — After taking one look at the promotional interview between Curtis Johnson Films writer and creator, Curtis Johnson (CJ), and NXT model Sianna DesRoches, it was obvious that quality of production was key in delivering his message. Located in Denver, Colorado, Curtis Johnson Films is a screenplay-writing company that develops content for television, film, and animation. The interview finds CJ in an Access Hollywood-style setting while he answers questions regarding entrance into the adult animation space. Along with leading online content distribution company Big Top Entertainment, which is listed as one of Sony Music Entertainment's The Orchard's Black Led Companies You Should Know, CJ has found success in the boutique music distribution space but has always been involved with writing. "I have seen firsthand the impact writing music for film and television has and I naturally gravitated towards expanding my writing into films, and specifically adult animation" states CJ.
Curtis Johnson Films has created two adult animation comedy pilot sitcom teasers FISH and Roc n Ctar. FISH is about a disgruntled radio host who seeks revenge by antagonizing other radio hosts by calling up their stations and starting trouble. CJ partnered with digital animator, Juan Mont who has previously worked on Steven Colbert's show "Our Cartoon President" which aired on Showtime. While Roc n Ctar is about a small rock from Earth and a dim pessimistic star from the galaxies who book the same Airbnb and decide to share despite their differences. Both pilot teasers are being shopped to network representatives and interested parties while CJ and his team continue to develop sustainable and engaging content.
In addition to writing adult animation, Curtis Johnson Films also has several completed scripts in production-ready mode. With scripts ranging from comedy, psychology, and suspense thrillers, to heist and crime films, Curtis Johnson Films can deliver. His newest film, Lot 24 The Rental, is a psychological thriller about a sleep-stricken mentally anguished middle-aged man who uses a friend's rental for work and soon discovers the unit may contain decisions between reality and fiction. With a writing style that can be categorized as "out there", CJ's projects all seem to have one common theme: nothing is the same or follows the same patterns. Lot 24 The Rental will be released fall of 2023 via film production company Dogs Den Films which CJ co-operates with his business partners Bobby Robinson and Trenell Blanks.
Dogs Den Films' first feature film Alien Domicile 2 Lot 24 received international distribution via ITN Films and can be found on multiple YouTube pages including Sci-Fi Central's channel with 800k followers and 217k views.
All media inquiries should be sent to Bobby Robinson at [email protected]
Curtis Johnson
IMDB https://www.imdb.com/name/nm8285859/ [imdb.com]
IG: https://www.instagram.com/curtisjohnsonfilms/ [instagram.com]
IG: https://www.instagram.com/dogsdenfilms/ [instagram.com]
IG: https://www.instagram.com/bte_llc/ [instagram.com]
www.dogsdenfilms.com [dogsdenfilms.com]
www.btopent.com [btopent.com]
Bobby Robinson
Dogs Den Films
+1 626-826-5997
email us here
Visit us on social media:
Facebook
Instagram
YouTube
Hot (AI) Model Interviews Animation Screenplay Writer Curtis Johnson


Originally published at https://www.einpresswire.com/article/644413371/ai-model-interviews-animation-writer-curtis-johnson