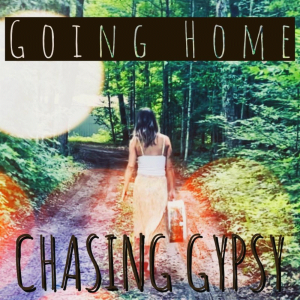 Chasing Gypsy's heartfelt single "Going Home" taps into the emotions of revisiting one's past and capturing personal growth through music.
DESTIN, FLORIDA, UNITED STATES, August 22, 2023/EINPresswire.com/ — Chasing Gypsy, the captivating Alternative Pop group led by the talented Singer/Songwriter Christy Larsen, is set to release their emotionally charged second single titled "Going Home" on Friday, August 25, 2023. With the upcoming release, Chasing Gypsy continues to captivate listeners with their unique sound and deeply personal songwriting.
"Going Home" is more than just a song; it's a poignant exploration of emotions tied to returning to one's roots after a prolonged absence. For Christy Larsen, the artist behind Chasing Gypsy, this song holds special significance as it delves into her own life journey, reflecting the joys, anxieties, and fears she experienced upon revisiting her hometown after years away. The lyrics beautifully convey a tapestry of emotions, ranging from the excitement of rediscovering one's roots to confronting the shadows of the past. The song's introspective verses and soulful melodies invite listeners to join Christy on her heartfelt journey of self-discovery.
"Going Home" is a deeply personal song for Christy Larsen. It serves as a window into her life, encapsulating moments of both happiness and hardship that she faced while growing up. Through the lyrics, she navigates the complexities of revisiting her hometown, which holds a mixture of cherished memories and painful experiences. With lines like "It's time I feel it in my soul, it's time, it's rattling my bones," the song captures the essence of longing and the anticipation of returning to the place that shaped her.
As a testament to her emotional investment in the song, Christy Larsen shared, "Behind the song 'Going Home' lies a piece of my heart. It's an honest reflection of my journey, encapsulating the joy of revisiting my roots and the courage it took to face the memories I left behind. This song is an ode to the power of embracing one's past and finding strength in vulnerability."
The song was written by Christy Larsen in 2019 and marked Chasing Gypsy's first original release. With its heartfelt lyrics and soulful melodies, "Going Home" has already captured the hearts of local audiences at Chasing Gypsy's live shows, solidifying its place as a fan favorite.
Producer Rob Gilmore, Esq., noted, "Christy's voice and performance on 'Going Home' are reminiscent of velvet – smooth, soulful, and uniquely her own. The song's authenticity resonates deeply, making it a truly remarkable piece of art."
Chasing Gypsy's music has been described as wonderfully refreshing and authentic by Share This Band, a New Music Discovery Blog. The release of "Going Home" follows the success of their first single, "Drifting Days," which was unveiled on July 1, 2023. With this upcoming release, Chasing Gypsy seeks to connect with an even wider audience and share the emotional depth of Christy Larsen's music.
Mark the calendars for Friday, August 25, 2023, when Chasing Gypsy's "Going Home" will be available on all major streaming platforms. Listeners will be able to immerse themselves in the journey of rediscovery and self-reflection as Chasing Gypsy invites everyone to experience the power of music that touches the soul.
Stream "Going Home" by Chasing Gypsy on Soundcloud: https://on.soundcloud.com/ToU79
For any media inquiry, Chasing Gypsy can be contacted at http://www.chasing-gypsy.com
About the Artist:
Chasing Gypsy is an Alternative Pop group led by the talented Singer/Songwriter Christy Larsen. With a distinctive voice likened to "velvet" and soulful, authentic songwriting, Chasing Gypsy captures the essence of emotions and experiences. "Going Home" is the group's highly anticipated second single, set to release on August 25, 2023.
Robert Gilmore, Esq., President
Vicarious Records, Ltd.
[email protected]


Originally published at https://www.einpresswire.com/article/650706879/alternative-pop-artist-chasing-gypsy-to-release-2nd-single-going-home-on-august-25th