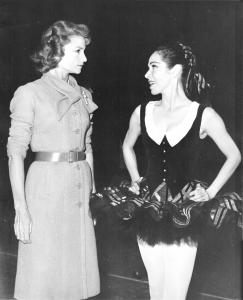 Honoring a Visionary – Chronicling the Tragedy of What Might Have Been.
Award-Winning Documentary Releases August 8, 2023
LOS ANGELES, CA, UNITED STATES, July 20, 2023/EINPresswire.com/ — Revolutionizing the Way Dance is Performed Forever
Random Media Proudly Announces
the Worldwide Digital Debut of
AN AMERICAN BALLET STORY
Random Media and Cinematiks LLC, is proud to announce the streaming debut of the award-winning dance documentary, AN AMERICAN BALLET STORY, beginning August 8. The captivating film chronicles the fascinating rise and fall of acclaimed philanthropist Rebekah Harkness and her revolutionary but controversial company Harkness Ballet. Born amidst the cultural revolution of the 60's, Harkness' Harkness Ballet company burst onto the scene with bold and controversial direction, transforming the way dance was to be performed, until just as suddenly, the company disappeared. AN AMERICAN BALLET STORY showcases Harkness' rise and acclaim; her struggle against the critics and battle to control Robert Joffrey and his Joffrey Ballet; and ultimately the company's fall. Taking audiences on an unforgettable journey into one of the most important periods in the history of dance told from a human perspective, the unique film chronicles the Harkness and Harkness Ballet's 'place in history, as a catalyst of not only dance but also contemporary art and music, that still has impact on artists and audiences today.
YOUTUBE: https://youtu.be/1qUrUpyU40A
TRAILER: https://vimeo.com/672952777
Distributed by Random Media in association with Cinematiks, the award-winning AN AMERICAN BALLET STORY screened to acclaim at over a dozen festivals, including The 195 Countries International Film Festival, Bettiah International Film Festival, Ramsgate International Film & TV Festival, Kiez Berlin Film Festival, New York City Film & Television, History, Arts and Sciences International Doc Fest and at The Documentary Without Borders Film Festival, where it was awarded 'Best Director' for director Leslie Streit.
LOGLINE/Short Synopsis
The Harkness Ballet was gone. But like Camelot its legend was just about to begin.
Full Synopsis:
1964 – A time of major shifts in civil rights, women's and gay rights. New York City was alive – you could feel it on the streets. The Joffrey Ballet splits in two over a struggle for artistic control and the Harkness Ballet bursts onto the American arts scene. Bold and controversial, the Harkness revolutionizes the way dance is performed forever.
The Harkness Ballet produced two international touring companies, a youth ballet and its very own theater. They were invited to perform at the White House, seen on national TV and were an international sensation wherever they toured. Founder Rebekah Harkness gave opportunities to emerging American artists no matter their race or heritage. Her goal was to create a truly American dance company, yet she was hated by the New York critics and faced never ending misogyny and ridicule.
Ultimately the companies failed. But Rebekah had begun a movement of contemporary art, music and dance that still impacts artists and audiences today.
About Writer/Director Leslie Streit:
Leslie Streit's 2005 feature film, God Wears My Underwear, a documentary-narrative hybrid, tied the 1940s Jewish Holocaust to the 1950s genocide in Tibet. It was screened at several international festivals, including XXVII Festival Internazionale Cinema e Donne, DNA Film Festival in Toronto (won Best Film), WCFF, M-SPIFF, NYIIFVF and IFFS. Her short films have been syndicated on television stations around the US and broadcast on KTEH (PBS). Honors include Selected Artist at the Hong Kong Arts Biennial 2002, a 2009 Webby Special Mention and several screenplay awards. Streit co-produced the historic VD2001 widely recognized as the first dramatic series on the web with support from Intel Corporation and several other Silicon Valley tech companies. A second feature documentary Elly and Henry (2017) aka "The Inventor Who Escaped the Nazis'", is distributed by Espresso Media International and can be seen on Amazon Prime and several other online platforms. In 2021 she directed and co-produced an experimental short, 95 Days, about climate change that has received several international awards for best experimental film and best female director. A third documentary feature, An American Ballet Story has just completed a one-year festival run and won several awards including Best Documentary and Best Director. An experimental film The Ghost Stories Project is in the works. In addition, her company Cinematiks won the 2021 and 2022 San Francisco Award for the Film & Entertainment Industry.
About Random Media:
Random Media is a content company that acquires and distributes films on a worldwide basis through movie theaters, digital platforms, and cable, satellite and television networks and in conventional brick and mortar retailers. Random Media is known for its commitment to building strong, supportive relationships with its filmmakers. The companies' growing library includes such acclaimed films as Hoaxed, The Girl Who Left Home, Intolerance: No More, and The Kybalion.
Info/Specs:
Released By/Studio: Random Media
Production Company: Cinematiks LLC
Director: Leslie Streit
Writer: Leslie Streit
Producers: Robin McCain, Leslie Streit
Starring: Rebekah Harkness, Margo Sappington, Helgi Tomasson, Finis Jhung, Charles Valentino
Cinematography: Robin McCain, Leslie Streit
Editor: Robin McCain, Adam Streit
Music: Lee Gurst, Michael Kamen
Running Time: 94 Minutes
Genre: Documentary
Suggested Rating: TV-PG
Aspect Ratio: 16:9 HD
Availability/Price: Digital: varies by platform (iTunes, Google Play, Amazon, etc.)
DVD $14.95 (SRP)
Social Media:
IMDB: https://www.imdb.com/title/tt16280704/reference/
Facebook: https://www.facebook.com/profile.php?id=100063487479966
Twitter: @HarknessMovie
Instagram: https://www.instagram.com/anamericanballetstory/
PRESS KIT – COMPLETE PHOTOS/ARTWORK HERE:
https://www.dropbox.com/sh/uxm3cpl9boa2dh6/AADrmpQznAI5KiZZXJUMdCEDa?dl=0
# # #
PRESS CONTACT and to request Digital or DVD Screeners
RICK RHOADES – [email protected]
High Roads Integrated PR for Random Media
+1.818.468.5585
JENNIFER LANG – [email protected]
High Roads Integrated PR for Random Media
+1.213.247.5918
© 2022 Cinematiks LLC
Jennifer Lang
High Roads Integrated PR
+1 213-247-5918
email us here
Visit us on social media:
Facebook
Twitter
Instagram
YouTube


Originally published at https://www.einpresswire.com/article/645330881/an-american-ballet-story-revolutionizing-the-way-dance-is-performed-forever