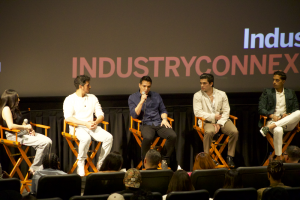 Witness a Powerful Display of Unity & Empowerment as Showbiz Icons Embark on a Two-Hour Discussion & Celebration on Cultural Representation & Hollywood Splendor
LOS ANGELES, CALIFORNIA, UNITED STATES, July 13, 2023/EINPresswire.com/ — In an extraordinary celebration of talent and diversity, Industry Connext 102, the illustrious red carpet affair, gathered Hollywood's finest for an exclusive and inclusive panel, igniting a wave of inspiration that will shape the next generation of entertainment. Held at the renown Los Angeles Film School, this star-studded event was a remarkable dedication to elevating the contributions and voices of Latinos within the entertainment landscape.
From passion to power, the event kicked off with an alluring red carpet beckoned with industry luminaries as the event list roster featured special guests including Actor Mo Hines renown for his work on Hulu's "The Fool;" Actor David Bianchi from BET+'s "Ruthless" and the sci-thriller TV series "RZR;" Actress Marilyn Simon from BET+'s "All the Queen's Men;" Actress Vanessa Vasquez known for the romance/comedy film "Divorce Bait;" TV Personality Deshay Jones from VH1's Black Ink Crew Los Angeles; Grammy-Nominated Producer and Musical Director Solano; Music Artist Fachento Boss; and more (see photos). A dynamic live mariachi band captivated viewers and set the stage for a powerful series of panel discussions, delving into the profound journeys of self-discovery and professional growth experienced by esteemed Hispanic veterans and emerging stars of Hollywood.
"Your achievements are not meant to be held onto, but to be shared," says celebrated actor and panelist Emilio Rivera, known for his recent unforgettable role in Hulu/Disney+'s "Flamin' Hot." "We acquire what we need, and then we pass it forward. So, when you reach your destination, remember to return and empower others by giving back."
This sentiment underscores the event's commitment to fostering diversity, empowerment, and excellence. Other esteemed actors Julio Macias, Anthony Bless, and Diego Tinoco, along with accomplished professional boxer Jose Encarnacion Zepeda, authentically shared powerful wisdom and insights, inspiring individuals to surpass boundaries and courageously pursue their dreams in the world of entertainment. This engaging dialogue offered a unique glimpse into their stories of transformation that have shaped their remarkable careers.
Adding to the festivities, the event featured the crowd favorite social photo booth fostering connections and sealing lasting memories; the mouthwatering delights of Hippos Tacos; the authentic flavors of Jarritos (known as the official drink of tacos); memorable souvenir prizes; and more that commemorated the essence of Hispanic cuisine, culture and creativity.
For those who missed the remarkable in-person event, the live stream is available here offering a front-row seat to the transformative experience. Industry Connext 102, was created by CEO and renowned event producer extraordinaire Roberto Barron and hosted by Power 106 radio personality Letty Peniche. Sponsors include Sony, Jarritos, Hippos Tacos, Convey LA, Calily Flowerhouse, The Los Angeles Film School, Sprayground, Tequila 13, and Marketing with Heart, LLC.
For more information about Industry Connexion, please visit www.therobertobarron.com and connect on social media @therobertobarron and @industryconnexion.
ABOUT INDUSTRY CONNEXION:
Industry Connexion is a dynamic quarterly series that offers an immersive experience into the world of entertainment. With a focus on diversity and inclusion, this event brings together top industry professionals to share their personal journeys, insights, and strategies for success. Designed for students and professionals alike, Industry Connexion serves as an informative platform to foster dialogue and inspire the next generation of creative minds. Our mission is to shape a more inclusive and representative industry, where diverse voices are celebrated and embraced.
Melissa V. Rodriguez
MVR PR
[email protected]
Visit us on social media:
Instagram
Other


Originally published at https://www.einpresswire.com/article/644288045/breaking-barriers-celebrating-excellence-industry-connext-102-honors-latinos-ignites-the-future-of-entertainment