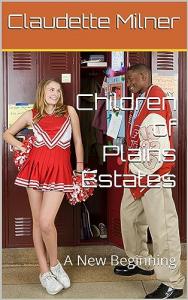 Ms. Milner released Children of Plains Estates: A New Beginning on July 25, 2023. It has been entered into the AmazonUKStorytelling2023 Contest.
This writer shows us the importance of faith in a divine source that helps us navigate through the complexities of life."
— Hilda J. Goldberg
LOUISVILLE, KY, USA, August 11, 2023/EINPresswire.com/ — Claudette Milner is the author of the Children of Plains series which includes Children of Plains Estates, Children of Plains Estates: Unheard Voices, Children of Plains Estates: Silent Tears, Children of Plains Estates: Hidden Truths and Children of Plains Estates: The Final Chapter.
She will be present at the Newburg/Petersburg Festival located at 5008 Indian Trail, Louisville, KY 40218, August 12-13, 2023, from 110:00 AM until 9: 00 PM
The series has been referred to as the melting pot that is America, From inception the series has been inclusive and diverse opening the dialogue regarding, racism, alcoholism, divorce, domestic violence, and molestation. The central characters vary in race and socio-economic status.
Ms. Milner concluded the series in 2019 after publishing Children of Plains; the Final Chapter ending with a cliff hanger and her fans wanting more.
She had this to say about the new release.
The main characters are entering high school and college. They are facing old challenges that are rooted in today's society.
Her focus is affirmative action, mental health awareness, immigration, and alcoholism in the family.
The first book of the series was written in 1999. The issues have not changed. Although progress has been made, there remains no cure for AIDS or Sickle Cell Anemia. There is no pathway to citizenship, so the stigma of undocumented status continues to define illegals. Mental health issues continue to increase the suicide rate in adolescents especially post pandemic. The myth of racial inequality continues to drive bigotry and hostility.
It is her prayer that by opening the dialogue we will be able to understand the heart of every man treating others with respect and dignity. If only we could imitate Jesus while obeying the commandment, Love thy neighbor.
Ms. Milner's body of work includes: the Forgiven of Our Transgressions series, novelettes which include It Started With A Dime and other Christian works.
Ms. Milner is currently in talks to bring this series to the television screen.
She is available for speaking engagements. In order to book a workshop or speaking engagement contact her on her website www.claudettemilner.com
Claudette Milner
Author
+1 502-314-1731
email us here
Visit us on social media:
Facebook
Twitter
LinkedIn
YouTube


Originally published at https://www.einpresswire.com/article/649435654/controversial-author-claudette-milner-releases-the-6th-volume-of-the-children-of-plains-estates-series