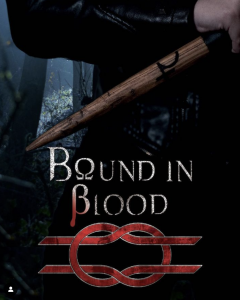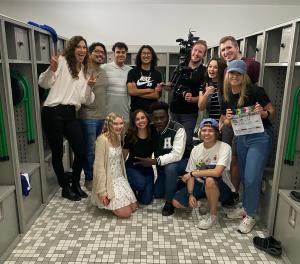 Behind the scenes of a Cooper Home Entertainment shoot.
The family behind Cooper Home Entertainment.
Family-focused studio pledges to produce riveting content without the need to stop, skip, or mute
When you watch something with the Cooper Home 'C' on it, that's our promise to you that there will be no swearing, no nudity, and no graphic content of any kind."
— Cooper Home Entertainment
RIVERTON, UTAH, UNITED STATES, October 16, 2023 /EINPresswire.com/ — Cooper Home Entertainment, a family-founded and managed production studio based in Riverton, Utah, has launched their first crowdfunding campaign on the Seed&Spark platform. The 30-day campaign is raising funds for "Bound In Blood: Heads of the Hydra."
The young-adult fantasy series is inspired by shows like "Vampire Diaries," "Supernatural," and "Percy Jackson." The show is about 16-year-old Jess Argos. When she is exposed as the foretold "Destroyer of the Gods," her dysfunctional family must come together and learn what it really means to be a family in order to fight off the Greek Gods and their monsters who threaten to tear them apart.
The campaign has a goal of $24,001 for the next phase of production and is already 23-percent funded with 24 days remaining.
"To say we're 'all in' would be an understatement," said James Cooper, Head of Production and Cinematographer for the studio that bears the family name. "My three brothers, our mother, our father, even our wives are all business partners, and we've been conjuring up stories and making movies for as long as we can remember. Now it's time for the world to experience our vision of what thrilling entertainment can be when standards are never compromised."
Jon Cooper, CCO and Lead Screenwriter, believes there's a massive market for films and series without swearing, nudity, and graphic content, but that are also wildly entertaining. "Just because content is clean doesn't always mean it's worth watching, or that it can keep an audience engaged, we're tackling that head on with 'Bound In Blood.'"
The Coopers note that this particular genre is notorious for pushing boundaries by portraying underage drinking, rampant drug use, sexual exploits, and endless profanity. The family and their team are dedicated to creating powerful programming like "Bound in Blood" that can entertain teens and their parents without giving in to modern Hollywood's standards.
The company's mission isn't simply snappy sound bites and press release fodder. Their official campaign pitch on Seed&Spark is equally bold. "This isn't just another passion project. In a world where you can't turn on the television without needing to stop, skip, or mute something, this project is the first step in bringing clean shows into your home that aren't just religious, comedic, or designed for young children … When you watch something with the Cooper Home 'C' on it, that's our promise to you that there will be no swearing, no nudity, and no graphic content of any kind."
The Coopers believe that with a successful campaign, they will partner with their backers to change the industry for good. "We will take back our families. We will change the world. The world needs this kind of entertainment, shows that are exciting with a solid moral core and a company devoted to creating it. So help us bring 'Bound In Blood' to life and let's all rise together! Come join the family!"
For more information about Cooper Home Entertainment, visit: https://www.cooperhomeentertainment.com
For more information about "Bound in Blood" on Seed&Spark, visit: http://www.Boundinbloodtheseries.com or https://seedandspark.com/fund/bound-in-blood
Brittany Fryer
Moore PR
[email protected]
Visit us on social media:
Facebook
Instagram


Originally published at https://www.einpresswire.com/article/662179019/cooper-home-entertainment-takes-new-series-and-their-ambitious-mission-to-crowdfunding-platform