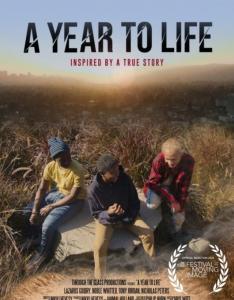 What an incredible experience. The entire cast and crew brought their A-game, and I'm so proud of what we've created together. It's a testament to the power of storytelling and the magic of cinema."
— Lazarus Guidry
NEW YORK CITY, NY, UNITED STATES, October 13, 2023 /EINPresswire.com/ — We are excited to announce: A YEAR TO LIFE short film will be part of the 8th annual International Film Festival! As part of the ongoing juried arts programming on October 14, at the Dolby Screening Room, The festival runs from October 12-15, 2023. Except for their 1998 inaugural event at the United Nations, all programs by THE ARTISTS FORUM have been open to the public. They provide unique opportunities for artists to showcase their work, receive recognition for their achievements, broaden professional contacts, and engage creative communities across disciplines. Their programming includes legal, business, and technical panels, television programming, networking events, live and online showcases, juried art competitions, as well as health and other special events such as our 9/11 Healing programs.
Leading this talented cast is Lazarus Guidry, (STRAIGHT OUTTA OF COMPTON, HULU ORIGINAL MARVELS "RUNAWAYS, GRITTY, UNSOLVED MURDERS OF TUPAC AND THE NOTORIOUS B.I.G, DEADFALL), and introducing fresh faces, Noble Whitted – New York native (FUNIKIJAM: HOLIDAY BEAT, IT'S ALRIGHT DAD, THE MARSHMALLOW MYSTERY TOUR}, Tony Jordan (TEENS WANNA KNOW, DISNEY'S BUNK'D), and Nicholas Peters (SNOWFALL, FAMILY REUNION). Guidry who also serves as co-executive producer alongside Yabetz Cohen-Perez, will travel from Los Angeles to attend the premiere.
Inspired by a true story, A YEAR TO LIFE embodies the spirit of those street soldiers who sacrifice themselves to give back to their communities and make a difference in the lives of young people. Director Nikki Hevesy wants to raise awareness about the juvenile incarceration rates, and how the school-to-prison pipeline disproportionately affects teens and young adults from disadvantaged backgrounds. She hopes the short film will shine a spotlight on the hard work that is being done in BIPOC communities to make a lasting impact on the next generation.
"I am very humbled that A YEAR TO LIFE is an official selection of The Artists Forum Festival of the Moving Image, " said Hevesy. "This is about the concept of Tikkun Olam (repairing the world). I wanted to make an authentic film that highlights an ordinary person doing extraordinary acts to make a difference in a young person's life. It will challenge the viewer to ask himself/herself: 'How far would you go to save a life?'"
Guidry's portrayal of Ace a community influencer, goes above and beyond. "This project has been a labor of love, and I poured my heart and soul into bringing this character to life. It's a story that touched me deeply, and I hope it resonates with every one of you as well. I can't wait for you all to see it!" said Guidry. When asked what those watching should take away from the film, he replied "I saw the everyday person that works hard and makes a difference in his community," He continues "That was important to me because it helped change the narrative of how we see African-American men. He's more of a male role model, a father figure, someone who cares about the people in his environment."
A YEAR TO LIFE | USA/10 minutes runtime | movie synopsis
A neighborhood influencer makes a life-altering choice for the sake of a pre-teen boy on the anniversary of his mother's death. Inspired by a true story, A YEAR TO LIFE is a captivating short film that shows how one moment can change a person's life. It's a unique story of one person's selfless act to make sure that an underserved youth has a chance to rise and thrive. It pays homage to those street soldiers who unconditionally sacrifice themselves to give back to their communities and make a difference for the next generation. For more information, visit AYearToLife.com.
NEXT STOP!
• 2nd Ceylon International Film Festival | runs October 23-27, 2023
SCREENING DATE AT THE CEYLON INTERNATIONAL FILM FESTIVAL
• Wednesday, October 25, 2023 | BEST SUPPORTING ACTRESS NOMINATION
CURRENT AWARDS:
• Michael ZinZun Award 2023 | BLACK AUGUST FILM FESTIVAL
• Best Director Award 2023 | MIRACLE MAKERS INTERNATIONAL FILM FESTIVAL
Megan Lawson
Jordan Fellas LLC
+1 833-446-7770
email us here
A Year to Life trailer


Originally published at https://www.einpresswire.com/article/661757657/cultivating-master-piece-a-year-to-life-makes-its-east-coast-premiere-at-the-artist-forum-festival-of-the-moving-image