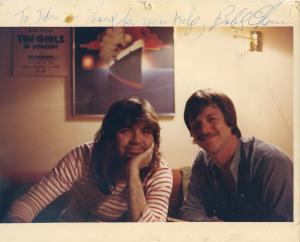 Bobby Chouinard & Danny "RIO" DeGennaro NYC Studio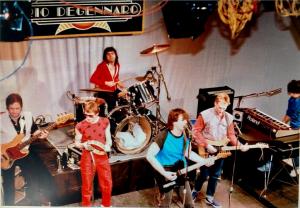 The Rio DeGennaro Band feat Ron Bogdon/Earl Scooter/Bobby Chouinard/John Kuzma/Alan St John
Danny "RIO" DeGennaro performed and recorded his songs with many legends in the music industry. The Billy Squier Band was at their peak when Rio recorded Hits!
"Find Someone" is a Dynamic Song with World Class musicians and producers that slipped thru the hands of Clive Davis, Arista Records"
— Edward Mero DDF JAM Records
NEW YORK, NEW YORK, UNITED STATES, October 31, 2023 /EINPresswire.com/ — Danny Degennaro Memorial Foundation is an established non-profit created after the name sakes untimely death. The Foundation has a goal to continue to share Rio's music with audience's world wide. Danny's music has touched the hearts and souls of so many he came in contact with and the music tells the story fittingly. This latest release was recorded with platinum selling members of the Billy Squier Band at the peak of their run. Bobby Chouinard (Legendary Drummer) along with Alan St John ( Keyboards) Jeff Golub ( guitar) are all members of Billy's Band that recorded and performed with Rio in NYC during this project of 6 ep songs in hopes of securing a recording contract with major label. Arista at the time was run by Clive Davis and the boys did a showcase in NYC for Clive. At the time Clive was busy with Whitney Houston and not signing on any new projects. As fate would have it this is one that got away from Clive Davis. All of this in chronological order is described in book by best selling author John Farmer Jr on Danny DeGennaro's life titled "Way To Fast" available on Amazon.
"Find Someone" was written by Danny DeGennaro and the project grew out of a friendship with Rio and Bobby Chouinard which lead to recording and deal seeking from Media Sound NY to Criteria studios Miami . From over dubs by Fire Fall singers to production by Fat Albert Productions famed producers out of Criteria Studios who worked with the Bee Gees. The boys put together 6 powerful songs as a demo and polished the songs in everyway.
The songs can be listened to upon the re release at hear now Degennaro Hits Creative Inspiration . This can best be described as Deep Tracks of the music industries under belly. Well worth the listen.
Find Someone video was created by Tom Reock of Squirrel Ranch Studios in NJ a musician and producer utilizing old footage of the musicians with several special features. The live video features other legends in music business TJ Tindall ( Guitar / producer Multi platinum Motown songs) Ron Bogdon ( KC and Sunshine Band bass ) Earl Scooter (singer/percussionist ) John Kuzma ( guitar / Hooters) Amazing Players !
Edward Mero
Danny Degennaro Foundation
+1 954-227-8186
email us here
"Find Someone" by Danny "RIO" DeGennaro and Billy Squier Musicians


Originally published at https://www.einpresswire.com/article/663816264/danny-degennaro-memorial-foundation-releases-find-someone-featuring-platnuim-selling-billy-squier-rythm-section