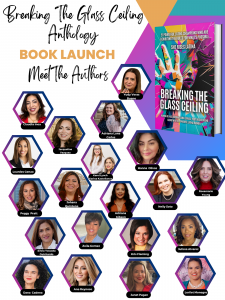 Jacqueline Vazquez, Latina Entrepreneur, Author, Speaker, Mentor, Educator, Podcast Host, and Women's Wellness Advocate.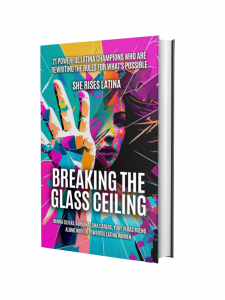 Breaking The Glass Ceiling Anthology Book – 21 Latinas and Their Champions
Together we ARE the DNA of change.
Do not allow your situation define you and your mental state. Latinas are resilient, but even more resilient when we seek support."
— Jacqueline Vazquez
NEW YORK, NEW YORK, UNITED STATES, September 15, 2023/EINPresswire.com/ — Celebrating Hispanic Heritage Month, a remarkable group of twenty-one women, twenty of whom are Latinas, have come together to launch the groundbreaking "Breaking the Glass Ceiling" anthology book. Recognizing the urgent need for increased support and representation for Latina women in the world of business, this anthology takes a significant step forward in honoring our roots while promoting diversity and inclusion.
The eBook release is set for October 3rd, with the hardcopy release following on October 17th. Pre-sales are available now – Click here: Breaking The Glass Ceiling!
The Growth of Latino-Owned Businesses In recent years, Latino-owned businesses have experienced remarkable growth, outpacing the average business significantly. A study by Stanford University reveals that Latino-owned businesses have achieved a staggering 34% growth rate, in stark contrast to the mere 1% growth observed across all businesses. Latinos in the United States have injected a remarkable $2.3 trillion into our economy, making it equivalent to the fifth-largest global economy. Despite comprising 19% of the U.S. population, Latinos still face underrepresentation and stereotyping in various sectors, including media, where only 7% of workers are Latino, and a mere 3% are Latina.
This discrepancy extends to the fields of film, television, and news, as well as book authors, editors, and publishers. A recent report by the U.S. Government Accountability Office underscores that from 2010 to 2019, the percentage of media workers who are Latino or Latina grew by only 1%, compared to a 3% rise for Latinos in other fields.
The "Breaking the Glass Ceiling" book seeks to address this disparity, change the narrative, empower Latina women to achieve upward mobility and foster wealth creation by sharing the inspirational stories of accomplished Latinas who can serve as role models in leadership and representation.
About "Breaking the Glass Ceiling"
"Breaking the Glass Ceiling" is an anthology that challenges the status quo, transforms narratives, and transcends barriers within the realms of business, entrepreneurship, and the corporate world.
Meet The Authors:
The authors of each share their unique stories of battles, struggles, and triumphs. Among them is Johanna Quintana, who, at seventeen years old, courageously crossed the border on a wooden box and later became the founder and CEO of two thriving businesses, creating job opportunities for hundreds of women in her community.
The book also introduces readers to Julissa Alvarez, who hails from a small village in the Dominican Republic and overcame extreme poverty to become the CEO of Brimela Lux Events & Brimela Routes Corp, as well as becoming Vice-President of one of the most prestigious institutions in U.S. higher education.
Neily Soto, another featured author, navigates living in two worlds. Growing up in subsidized housing, she recognized an opportunity in real estate, becoming an investor and developer. She is now running as one of the first Latinas for the city council in her community.
These remarkable women exemplify family values, financial freedom, and tenacity in the United States, contributing to its rich tapestry. They represent various industries, including entrepreneurship, corporate leadership, real estate, mortgage brokerage, event planning, investment, and coaching:
Yudy Veras Bueno, Rosemarie Diane Young, Silvia Yocasta Guichardo, Jacqueline Vazquez, Neily Soto, Ana Liliana Reynoso, Johana Quintana, Peggy Pratt, Janet Pagan, Lorilet Monegro, Hanna Olivas, Karol Lynch-Escobar, Karina Castellanos, Claudia Inoa, Zoila Gomez, Adriana Gibson, Lourdes R. Genao, Kris Fleming, Adriana Luna Carlos, and Julissa Alvarez.
Each author shares a transparent, empowering, and captivating chapter of their journey and provides practical tools for women to put into action. The book dives into their battles and tenacity, showcasing how they have broken through professional hierarchies and male-dominated structures, lifting not only themselves but also their families and communities from poverty and scarcity mindsets through education and empowerment.
Our mission is to inspire and empower women to have a more purposeful, authentic, and fulfilling life breaking through the generational pattern of mental, emotional, and spiritual poverty that leads to financial struggle.
About The Publisher: She Rises Studios
She Rises Studios is a global multimedia company that amplifies women's stories across print, television, film, and digital platforms. Our mission is to empower women of all life stages, helping them overcome adversity and develop an unstoppable mindset. Founders, Hanna Olivas & Adriana Luna Carlos. – Concept & Lead Coordinator for the Breaking the Glass Ceiling, Yudy Veras Bueno.
About Jacqueline Vazquez, Author
Jacqueline Vazquez is a Latina Entrepreneur, CEO, Event Planner, Author, Speaker, Educator, Mentor, Women's Wellness Advocate, and Podcast Host.
Jacqueline Vazquez has been an entrepreneur and well-esteemed professional in the event industry for over 25 years. At the age of 28, she soon learned her journey with motherhood would take an unexpected turn into a journey with infertility. Her faith has kept her on firm foundation throughout all her unexpected situations. Whether it was a challenge or a loss, her resilience and faith has allowed her to move ahead towards her purpose. Her chapter, The Smile Behind The Smile.
Jacqueline is a woman with a purpose driven goal: to be a part of a woman's healing journey in these three pillars: Entrepreneurship, Faith, and Infertility.
She launched the Inspired by Jacqueline Podcast, to educate, spread awareness and equip women globally. Tune in to the Podcast, as well as the Breaking The Glass Ceiling book where she discusses her journey with infertility while being an entrepreneur. Jacqueline's journey has also featured in the Event Therapy Magazine, a magazine focused on building mental health awareness for event and entertainment professionals.
Please For more information about the project, contact Jacqueline Vazquez – [email protected] or (914-713-5092 www.inspiredbyjacqueline.com
Author Video: https://www.dropbox.com/scl/fi/u4ews5pchj9bsst8pb2wk/BreakingTheGlassCeilingBook.mp4?rlkey=nl75qay4iu5e63t41carmsyy6&dl=0
(End of Press Release)
Jacqueline Vazquez
Classy and Inspiring | Inspired by Jacqueline
+1 914-713-5092
[email protected]
Visit us on social media:
LinkedIn
Instagram


Originally published at https://www.einpresswire.com/article/655924781/empowered-latina-entrepreneurs-launch-breaking-the-glass-ceiling-anthology-book