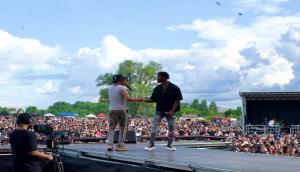 Rising Star Reaches Cloud Nine After Introduction From T.I. At Hot in Herre Music Festival.
TORONTO, CANADA, July 5, 2023/EINPresswire.com/ — For aspiring hip-hop artists, the chance to perform alongside industry giants is a dream that rarely becomes reality. However, Kemdilo Gold's remarkable journey from a refugee escaping Haiti to the stage of the Hot in Herre Music Festival in Toronto shattered expectations. With his undeniable talent catching the attention of rap legend T.I., Gold now finds himself as his new prodigy. This extraordinary partnership signifies a turning point in Gold's career and sets the stage for his imminent rise as a hip-hop sensation.
Hot In Herre: Where dreams become reality.
On the final Saturday in June, Toronto welcomed the Hot In Herre Music Festival at Downsview Park, featuring renowned artists like Rick Ross, Akon, Ne-Yo, Fat Joe, Keri Hilson, Ja Rule, Chingy, and headliner-host Nelly. Among the notable names on the lineup, Atlanta rap legend T.I. stood out, delivering popular tracks including Whatever You Like, Rubber Band Man, What You Know, My Love, and Live Your Life. Before completing his set, the three-time Grammy award-winner served up another surprise to The Six in the form of local emerging hip- hop recording artist Kemdilo Gold who was handed the mic to perform his single Rockin With in front of thousands of fans.
A Refugee's Journey: From Haiti to Hometown Hero.
Gold's journey to this pivotal moment is a testament to his resilience and passion for music. Born in Haiti and smuggled to America as a refugee, at the tender age of five, Gold's life has been marked by challenges and adversity. Determined to pursue his dream as a musician, he overcame countless obstacles and eventually found his way to Toronto, where he now calls home.
It was Gold's unwavering discipline and relentless mindset that caught the attention of T.I., who recognized the rising talent's potential during a recent studio session in Atlanta. T.I. was impressed by Gold's dedication to his craft and his ability to create captivating music that resonates with audiences. This encounter led to the invitation to perform at the Hot in Herre Music Festival, a milestone in Gold's career.
T.I.'s Recognition: A Legendary Co-Sign for Kemdilo Gold.
"As a refugee, I faced major challenges, but my passion for music is what kept me going, " says Gold. "It's a surreal feeling to have someone like T.I., an industry legend, rockin with me. I am humbled by this opportunity to perform in front of my hometown crowd and to share my story through my music."
Gold's unique blend of soul, rap, Afro, and jazz has captivated audiences, garnering significant attention. His debut album Limitless, released under the independent label Sound of Digits, has gathered close to 775,000 streams on Spotify, solidifying his position as a rising star in the hip-hop scene. As Gold continues to pursue his musical aspirations, his inspiring story of resilience and determination resonates with fans worldwide.
For media inquiries, contact AMO Entertainment Inc. at [email protected], call +1 416-523-6881 or visit www.amoentinc.com
About Kemdilo Gold:
Kemdilo Gold has emerged as one of Toronto's most prominent up-and-coming recording artists, blending a unique soundscape of soul, trap, jazz, and rap. His debut album Limitless, released under the independent label Sound of Digits, produced by his older brother 10Digits, has provided this multilingual artist, born in Haiti and based in Canada, a platform to express his creativity and visual storytelling. With close to 750,000 streams on Spotify, one million plays on SoundCloud, and 300,000 views on YouTube, he has embarked on tours as support for Afroman, Mad Child, and most recently T.I.
Find Kemdilo Gold on:
Spotify: https://open.spotify.com/artist/7nCUAi9hzmFMue16YDRyNf
Instagram: https://www.instagram.com/kemdilo
Watch Kemdilo Gold ft. 10Digits – Cinderella (Music Video) on YouTube: https://www.youtube.com/watch?v=AdtJA2kEK8Y
Check out Media/Images on Google drive.
Eduardo Belmonte
AMO Entertainment Inc.
+1 416-523-6881
[email protected]
Visit us on social media:
Instagram


Originally published at https://www.einpresswire.com/article/643149205/from-refugee-to-hometown-hero-hip-hop-artist-kemdilo-gold-takes-toronto-by-storm