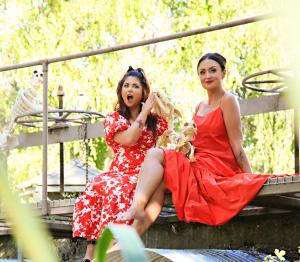 A Year of Thrills: Ghosts and Garnets Podcast Surpasses 55,000 Listeners Worldwide
This is the podcast I never knew I was missing in my life. I subscribe and listen to all the true crime podcasts, but the banter and humor is so great. I can't wait to hear more!"
— An Avid Ghosts and Garnets Fan
BOISE, IDAHO, UNITED STATES, October 31, 2023 /EINPresswire.com/ — Ghosts and Garnets, the spine-chilling podcast that uncovers the darkest mysteries and true crime stories in Idaho, is marking its one-year anniversary this October. The venture was born out of lifelong friends who united their passion for all things eerie and the spooky side of the Gem State.
In the span of just one year, Ghosts and Garnets has captivated audiences with a total of 56 episodes. With an astounding 55,000 listeners and downloads spread across 57 countries, their unique blend of true crime and comedy has gained a devoted following around the globe.
Throughout the past year, Ghosts and Garnets have made over 760 appearances in the media through articles, press releases, and social echos, with the top article getting an impressive 43.5M reach.
Camden Schacher, one of the hosts, marveled at the success: "We never thought our podcast would turn into what it is today, and especially this fast. I'm incredibly proud to be a part of it with my lifelong best friend, doing what we love. We're just getting started!"
In recent months, the Ghosts and Garnets podcast hosts have been in the spotlight, making waves on Boise State Public Radio's Idaho Matters podcast. First on July 10th, they were interviewed by Gemma Gaudette, where they discussed their origins and their shared love for true crime. Then on October 24th, they were again interviewed on Idaho Matters to discuss Gem State horror stories, bringing an extra chill to the Halloween season.
As part of their ongoing community involvement, this past weekend Ghosts and Garnets hosted their first live show at the Idaho Botanical Gardens Ghoul's Day Out event. At the event, the hosts discussed the haunting crimes of Douglas Van Vlack and how his lingering spirits continue to haunt the grounds to this day. They also provided avid listeners with inside secrets and swag.
One fan raved, "This is the podcast I never knew I was missing in my life. I subscribe and listen to all the true crime podcasts, but the banter and humor is so great. I can't wait to hear more!"
Ghosts and Garnets invite all thrill-seekers to join in on this must-listen podcast as they continue through year two. For more information about Ghosts and Garnets, please visit their website at ghostsandgarnets.com. To listen, tune in every Wednesday to discover the darkest secrets from Idaho and beyond through Spotify, Audible, Apple Podcasts, Google Podcasts, and more.
About Ghosts and Garnets Podcast:
Hosted by lifelong friends Whitney Rivera and Camden Schacher, Ghosts and Garnets is a true crime podcast that blends well-researched storytelling with humor and a touch of absurdity. This laugh-out-loud show promises listeners a unique and entertaining perspective on true crime. Each episode of the podcast raises awareness about these real-life cases that have long haunted communities and captivated the public's imagination.
About Tuuti:
Tuuti is a female-owned creative communications agency that specializes in boosting brand awareness, nurturing reputations, and strengthening connections between companies and their audiences. Some of the services they provide include content generation, event planning, graphic design, influencer management, public relations, social media, and traditional media buying.
If you would like more information about this topic, please contact Caylie Shelton, Director of Public Relations for Tuuti, at [email protected].
Caylie Shelton
Tuuti
email us here
Visit us on social media:
Facebook
Instagram


Originally published at https://www.einpresswire.com/article/665387763/ghosts-and-garnets-celebrate-one-year-anniversary-of-eerie-gem-state-podcast