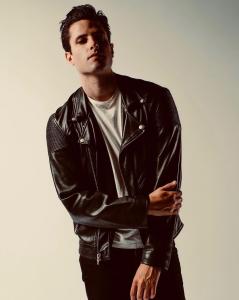 Introducing singer and songwriter Joe Sparrow's Captivating New Song: "Little Cleopatra".
LOS ANGELS , CA, USA, September 15, 2023/EINPresswire.com/ — Hollywood's Newest Pop Star Ignites the Music Scene with an Irresistible Melody and Enigmatic Charm, "Little Cleopatra"
HOLLYWOOD, — Joe Sparrow, the rising sensation in the world of pop music, with his latest release, "Little Cleopatra." Combining an electrifying voice with alluring melodies, Joe Sparrow captures the essence of human emotion, from the depths of desire to the heights of uncertainty.
In a world where pop music reigns supreme, Joe Sparrow stands out as a unique and captivating artist. With a voice that can both excite and hypnotize, he effortlessly draws listeners into his musical universe. "Little Cleopatra" is the latest addition to his repertoire, showcasing his unparalleled ability to blend powerful vocals with original production, creating an immersive experience that transports audiences to a world of intrigue and enigma.
Joe Sparrow's journey in the music industry has been nothing short of remarkable. Previously the lead singer, frontman, and main songwriter for the alt-pop band Solwave, he experienced significant milestones, including sold-out shows at prominent venues in major cities such as San Francisco, Los Angeles, and Denver. His talent caught the attention of the music industry's elite, leading to appearances as an opening act for renowned bands like The Revivalists, Spin Doctors, and Radical Something.
During his tenure with Solwave, Joe Sparrow collaborated with acclaimed producers Gordon Raphael (known for his work with The Strokes and Regina Spektor) and Tim Palmer (noted for his collaborations with U2 and Pearl Jam). Following the band's separation, Joe shifted his focus to songwriting, collaborating with established artists and producers, including ZHU and Stephen, as well as emerging talents poised for success.
In 2018, Joe Sparrow embarked on his solo artist journey, unveiling his EP "Behind Closed Doors" which was released in 2020 to critical acclaim. The EP, along with subsequent singles and videos, showcased his evolution as an artist and songwriter. Notably, Joe teamed up with producer AJ Salvatore for two collaborative releases, further expanding his creative horizons.
As "Little Cleopatra" prepares to captivate audiences, Joe Sparrow continues to solidify his position as a pop music icon with a gift for evoking the complexities of human emotions through his music. Fans and music enthusiasts alike eagerly anticipate this newest offering from the enigmatic artist.
Joe Sparrow is a Hollywood-based pop star whose captivating voice and original melodies have earned him a dedicated following. With a background as the lead singer of alt-pop band Solwave and collaborations with industry giants, Joe Sparrow's journey is one of artistic evolution and musical exploration. "Little Cleopatra," his latest release, continues to showcase his unique blend of emotive vocals and innovative production, further solidifying his position in the pop music landscape.
Keri Ann Kimball
Kimball Entertainment
+1 310-721-4912
email us here
Visit us on social media:
Facebook
Twitter
LinkedIn
Instagram
Other
Joe Sparrow "NUMB


Originally published at https://www.einpresswire.com/article/655997916/introducing-singer-and-songwriter-joe-sparrow-s-captivating-new-song-little-cleopatra