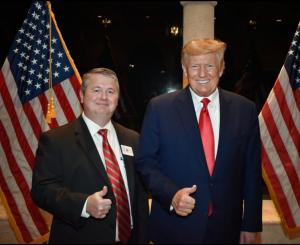 Mark Finchem with Donna and Stan Fitzgerald chatting with President Trump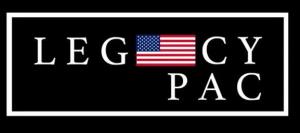 Legacy PAC logo black
Anna Paulina Luna , Matt Gaetz , Byron Donalds , Paul Gosar , Jim Banks , Sandy Smith and Jim Marchant have been endorsed said Stan Fitzgerald Press Secretary
Sandy Smith and Jim Marchant are key 2024 races we can flip the seats , we need to focus on them."
— Jared Craig President Legacy PAC
WASHINGTON , DC, DISTRICT OF COLUMBIA, UNITED STATES, August 16, 2023/EINPresswire.com/ — From the L-Strategies Press room , The official press of Legacy PAC :
Legacy PAC entered the political world with a high profile kick off earlier this year in Washington DC featuring Congressman Byron Donalds and Mark Alford with Sebastian Gorka , Kim Klacik , Tom Homan and Kristina Karamo speaking for the PAC led by Jared Craig and Stan Fitzgerald. Trump favorites Mark Finchem Kelli Ward and Martha Bonenta Fain are also officially with Legacy PAC.
Lauren Boebert (CO3) for re-election, Alex Mooney for WV Senate and Donald J Trump for 47th President were among the first endorsements announced by the PAC. Legacy PAC is now issuing endorsements of Sandy Smith (NC1) for congress and Jim Marchant for NV Senate as two seats they believe can be flipped. The PAC issued endorsements of incumbents for re-election Anna Paulina Luna , Matt Gaetz , Byron Donalds and Paul Gosar with Jim Banks for IN Senate.
To learn more about Legacy PAC visit: https://legacypac.org/
Legacy PAC is partnered with VFAF Veterans for Trump and in other recent news:
Veterans for Trump aka Veterans for America first issued a statement leading up to the Georgia indictments of the former president.
See : https://www.accesswire.com/772068/fulton-county-da-fani-willis-gets-pushback-from-georgia-republican-leaders-on-forthcoming-possible-trump-indictment
Stan Fitzgerald pledges five million dollars to Legacy PAC :
https://www.kron4.com/business/press-releases/ein-presswire/645549014/stan-fitzgerald-pledges-five-million-dollars-to-legacy-pac-through-estate/
PAC founder Stan Fitzgerald is producing a documentary titled "The Fall of Deceit" and recently filmed General Flynn for the project;
See : https://www.prlog.org/12979236-stan-fitzgerald-legacy-pac-founder-films-with-general-flynn-the-the-fall-of-deceit-documentary.html
Stan Fitzgerald Fitzgerald
L-Strategies LLC
+1 770-707-6291
email us here
Visit us on social media:
Facebook
Twitter
Legacy PAC Promo video


Originally published at https://www.einpresswire.com/article/650210724/legacy-pac-the-political-action-committee-announces-a-round-of-seven-new-endorsements-for-the-2024-cycle