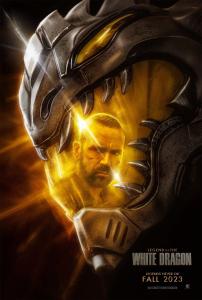 Highly Anticipated Film to be Released In 2024
SAN DIEGO, CA, USA, July 22, 2023/EINPresswire.com/ — Falling Forward Films, a leading independent entertainment company, Bascule Entertainment, and Bat in the Sun Productions premiered an exclusive film trailer for the much-anticipated 2024 release of LEGEND OF THE WHITE DRAGON, during their panel at San Diego Comic-Con on Saturday, July 22, at 5:30 PM before hundreds of die-hard fans. This highly anticipated action-adventure fantasy film promises to captivate audiences worldwide with its thrilling storyline, stunning visuals, and exceptional performances, which include Jason David Frank's final appearance before his tragic death late last year.
The exclusive film trailer, provides a tantalizing glimpse into the gripping world created by visionary writer-director Aaron Schoenke. From the first frame to the last, audiences will be drawn into the captivating narrative that unfolds in LEGEND OF THE WHITE DRAGON.
"We are extremely excited to unveil the exclusive film trailer and film clip for LEGEND OF THE WHITE DRAGON. It has been a labor of love for everyone involved, and we believe that audiences will be captivated by the rich storytelling, breathtaking visuals, and exceptional performances in this film. We can't wait for fans around the world to experience the magic of this feature," said director Aaron Schoenke.
LEGEND OF THE WHITE DRAGON features, Mark Dacascos (John Wick III), King Bach (Walking Dead, Greenland), Michael Madsen (Kill Bill 1&2, Sin City), David Ramsey (Arrow, The Flash). The film also stars Aaron Schoenke, Jason Faunt, Rachel Brooke Smith, Ciara Hanna, Kevin Porter, Mayling Ng, Cerina Vincent and Jenna Rae Frank (daughter of the late Jason David Frank).
After being a fugitive on the run for three years, the White Dragon (Jason David Frank) has returned to the city he fought to protect. He must now clear his name and save the family he keeps in secret before the mysterious Dragon Prime (Aaron Schoenke) unleashes his own revenge on the White Dragon.
LEGEND OF THE WHITE DRAGON is a Bat in the Sun Production. Aaron and Sean Schoenke serve as producers on the film with Chris Jay executive producing. The film will be distributed by longtime distribution executive Scott Kennedy's Falling Forward Films and will be in theaters across the US in 2024.
To learn more about the film and its upcoming release, visit the official website https://www.lotwhitedragon.com.
ABOUT BAT IN THE SUN PRODUCTIONS
Bat in the Sun is an independent film and music production company founded in 2001 by Aaron Schoenke, and his father Sean Schoenke.
Bat in the Sun has grown from humble beginnings to a world renowned company with over a billion views across their social media and a rabid fan base.
Their Super Power Beat Down series has received well over 700 million views and won Best Web Series at the 2015 and 2019 Geekie Awards, as well as several nominations for Streamy Awards including 'Stunt Choreography', 'Action or Sci-Fi Show', and 'Visual Special Effects' categories.
ABOUT FALLING FORWARD FILMS
Formed by industry executives with a combined 35 plus years of experience who have collectively worked on well over 350 theatrically released films, Falling Forward Films is a leader in independent film marketing and distribution.
With our passionate love of film and the industry as a whole, we are a "filmmaker-friendly" company that endeavors to continue to bring creative and innovative content to the world.
ABOUT BASCULE ENTERTAINMENT
Bascule Entertainment is an independent film production company based in the UK. Since its inception, Bascule Entertainment has aimed to invest in, develop, support and produce high quality independent films, whilst promoting inclusive filmmaking practices.
For more information about the film please visit https://www.lotwhitedragon.com.
# # #
Amy Prenner
The Prenner Group
+1 310-709-1101
email us here
Visit us on social media:
Instagram
YouTube
Official Trailer for Legend of the White Dragon


Originally published at https://www.einpresswire.com/article/645872691/legend-of-the-white-dragon-starring-jason-david-frank-unveils-exclusive-film-trailer-at-san-diego-comic-con