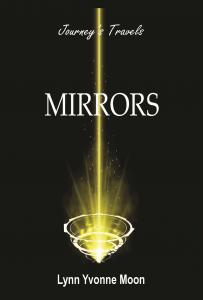 Indignor House proud to announce that the long awaited second book to the Journey's Travels series now available for pre-order – Mirrors – Out Now
Conspiracies are fun and entertaining. The only thing to be afraid of are the facts that surround them."
— Lynn Yvonne Moon
VIRGINIA BEACH, VIRGINIA, UNITED STATES, August 12, 2023/EINPresswire.com/ — MIRRORS, book 2 of Journey's Travels, follows Journey Elizabeth Gordon as she finally meets her mother's relatives. But they are anything but …
With another school term comes another trial – Skopocit. Takoda and Journey must travel to another solar system and visit the planet of their choice. And Journey knows exactly which one – the one that is closest to the Tarkadians – the evil race that just attacked and destroyed her school. The closest planet is Indria. A world where the people glow and are hatched, not born. A world that is dark and bleak and without an atmosphere. And a world that has many answers to her many questions.
Journey now must accept the truth about her family's past. The family on her mother's side. But then, when she finally meets her father's parents, a new question is formed. How can they know so much about the planets, Traveler and Journey, that are in the Fornax galaxies?
Book 1 of the series, Reflection, is now a screenplay and was selected as a quarterfinalist in the Golden Scrip Competition. With exciting covers, a fresh edit, and a new publisher, Journey's Travels ranks in competition with other great young adult sci-fi series.
Lynn Yvonne Moon is an award-winning author of young adult novels. The Tower, a story about school age bullying, has won seven national awards. Whispers has won over eight international awards. Lynn continues to write in her southern home of Virginia while mentoring young girls through words of wisdom.
Journey's Travels
Mirrors – Book 2
ISBN 978-1-953278-24-1 Hard Back
ISBN 978-1-953278-25-8 Soft Back
ISBN 978-1-953278-26-5 E-Book
Reflection – Book 1
ISBN 978-1-953278-17-3 Hard Back
ISBN 978-1-953278-18-0 Soft Back
ISBN 978-1-953278-19-7 E-Book
Available at Barnes and Noble:
https://www.barnesandnoble.com/w/mirrors-journeys-travels-lynn-yvonne-moon/1143880576?ean=9781953278241
Lynn Yvonne Moon
Indignor House, Inc.
+1 757-373-7752
email us here
Visit us on social media:
Facebook
Twitter
YouTube


Originally published at https://www.einpresswire.com/article/648380565/mirrors-journey-s-travels-book-2-now-available-for-pre-order