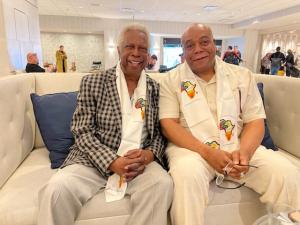 "The Azusa Revival Musical: Pentecost Has Come"
GREENSBORO, NORT CAROLINA, US, October 23, 2023 /EINPresswire.com/ — In an exciting development for the world of music and theater, Dr. Chief Lance Jones – a prominent figure in the cultural and entertainment scene of Greensboro, North Carolina, was named Executive Producer for the upcoming productions of "Mickey Stevenson: Motown's First A&R Man" and "The Azusa Revival Musical: Pentecost Has Come."
Mickey Stevenson, affectionately known as "Mickey," is a legendary figure in the music industry, celebrated for his pivotal role in shaping the success of Motown Records and launching the careers of iconic artists such as Marvin Gaye, The Supremes, The Temptations, Four Tops and Stevie Wonder.
Dr. Jones enjoys a deep passion for the arts and a history of promoting cultural enrichment in the greater Greensboro community. He has embraced the role of Executive Producer for the two remarkable productions whose involvement underscores his commitment to S.T.E.A.M. programming, which supports the arts and the global significance of these projects.
"The Azusa Revival Musical: Pentecost Has Come" is set to bring to life the awe-inspiring story of the Azusa Street Revival. This spiritually transformative event occurred in ethnically diverse Los Angeles in the early 1900s. Guided by Mickey Stevenson's creative vision, this musical aims to capture the essence and historical importance of the Azusa Street Revival, with aspirations towards a feature film of its theatrical production.
The production delves into the story of the Azusa Street Revival, led by William J. Seymour, a son of formerly enslaved people. In April 1906, Seymour and others were profoundly touched by a divine presence, sparking an outpouring of the Holy Spirit. This movement transcended racial and cultural boundaries, emphasizing all believers' equality in God's eyes. Its influence reached far beyond its time and place, shaping the global Pentecostal movement with over 700 million believers today.
"The Azusa Revival Musical" features dynamic original music composed by Mickey Stevenson and esteemed writers. Its powerful score includes emotionally charged production numbers and heartfelt ballads that resonate deeply with audiences. The musical's title track, "You Can Do Anything," and songs like "Do You Know My Jesus!" and "Won't Stop Praying" contribute to its compelling storytelling.
Testimonials from prominent entertainment industry figures and spiritual leaders reinforce the significance of these productions. Berry Gordy, the founder of Motown, praises Mickey Stevenson's ability to assemble winning creative teams and foster an environment that supports artists. Testimonials from artists like Smokey Robinson and Mary Wilson highlight Mickey's instrumental role in shaping their careers. Spiritual leaders, including Bishop Clarence Haddon and Dr. Joyce Haddon, emphasize the divine inspiration behind the musical and its potential to bring about spiritual awakening.
Mickey Stevenson's touring strategy for "The Azusa Revival Musical" is designed to generate solid revenue while profoundly impacting audiences worldwide. A dedicated production team, including critical, creative positions like director, choreographer, and music arranger, will contribute to the musical's success. The budget breakdown covers various expenses, from cast and production development to marketing, advertising, and merchandise.
These productions aspire to engage audiences through captivating storytelling, powerful music, and a profound message of unity, equality, and spiritual revival. As Executive Producer, Dr. Jones is excited to embark on this creative journey with Mickey Stevenson and his team. Together, we invite supporters, investors and tastemakers to join them in sharing these transformative stories with the world.
For media inquiries, please contact:
Dr. Chief Lance Jones, Executive Producer
http://www.weareoneworldwide.org
[email protected]
Helen Perry
THR33LAND ENTERPRISES
+1 404-665-3467
[email protected]


Originally published at https://www.einpresswire.com/article/660742615/motown-s-first-a-r-man-mickey-stevenson-names-dr-chief-lance-jones-executive-producer