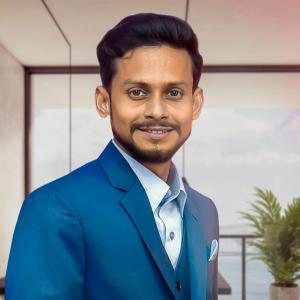 Renowned Creative Graphic Designer and Video Editor Sayantan Adhikary Launches OptimityFX, Introducing a New Era of Design in the WEB3 Industry.
OptimityFX represents a new era of design, where creativity meets technology in unprecedented ways."
— Sayantan Adhikary
KOLKATA, WEST BENGAL, INDIA, July 14, 2023/EINPresswire.com/ — Sayantan Adhikary, a seasoned creative professional with over 9 years of experience, is proud to announce the launch of OptimityFX, a cutting-edge creative agency startup poised to revolutionize the design landscape in the web3 industry.
OptimityFX combines Adhikary's exceptional talent as an out-of-the-box thinker with his extensive background in the creative field to provide a comprehensive range of services tailored to meet the needs of emerging businesses. With a commitment to innovation and a deep understanding of design trends, OptimityFX is set to become the go-to solution for forward-thinking companies seeking exceptional creativity.
As a full-service creative agency, OptimityFX offers a diverse range of services that encompass the entire design spectrum. Their expertise includes creative graphic design, motion graphics, video editing, corporate and commercial video editing, social media design, and much more. With a passion for delivering impactful visuals and engaging content, OptimityFX is dedicated to helping businesses elevate their brand presence and stand out in a rapidly evolving digital landscape.
In an era where emerging businesses are seeking novel ways to captivate their target audiences, OptimityFX provides a one-stop solution for all design needs. By fusing innovation with meticulous attention to detail, OptimityFX ensures that each project is executed with the utmost precision, delivering unparalleled results that exceed client expectations.
One of the key advantages of partnering with OptimityFX is their unwavering commitment to efficiency and cost-effectiveness. Leveraging their extensive experience and advanced technological tools, the agency consistently delivers high-quality designs without compromising on affordability. OptimityFX aims to redefine the design industry by providing a design hub of the future, where creativity and practicality go hand in hand.
OptimityFX is now accepting inquiries and invites emerging businesses to experience the transformative power of their creative services.
For more information please visit https://www.optimityfx.com/
For further details, please contact at [email protected]
Sayantan Adhikary
OptimityFX
[email protected]
Visit us on social media:
LinkedIn
YouTube
Other
Your design solution OptimityFX


Originally published at https://www.einpresswire.com/article/642829460/optimityfx-pioneering-a-new-era-of-design-in-the-web3-industry