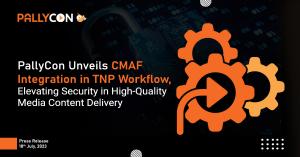 PallyCon, a leading provider of content security, is thrilled to announce CMAF in the latest addition to its TNP (Transcode, Watermark, and Packaging) services
SAN JOSE, CALIFORNIA, UNITED STATES, July 20, 2023/EINPresswire.com/ — In line with its commitment to simplified secured content delivery with its cost-effective solutions, PallyCon has integrated support for Common Media Application Format (CMAF) into its TNP workflow.
CMAF has emerged as a preferred streaming format, revolutionizing the way media content is encoded and packaged for seamless internet streaming. Its adoption has grown steadily since its inception in 2021, owing to its efficiency, improved streaming experience, cost savings, flexibility, and future-proofing capabilities. Major industry players have expressed support for CMAF, recognizing its potential in delivering high-quality media content over the Internet.
The integration of CMAF support into PallyCon's TNP workflow enables content providers to transcode, watermark, encrypt, and package their content seamlessly in CMAF format. This all-in-one solution eliminates the need for additional setup, complexity, and cost, empowering content providers to deliver superior quality content while maximizing efficiency.
To utilize the CMAF option in PallyCon TNP service, please have a look at the TNP Guide & API
PallyCon's TNP service has gained widespread acclaim from industry experts since its launch in Q4 of 2022. The inclusion of CMAF support further strengthens PallyCon's position as a leading provider of comprehensive and user-friendly solutions for content protection and delivery.
To learn more about PallyCon's TNP services and explore the CMAF integration, visit www.pallycon.com
About PallyCon:
PallyCon is a premium content protection service from INKA Entworks Inc. Trusted by 200+ customers globally, providing 360-degree, cloud-based end-to-end content security for OTT platforms, such as Multi DRM, Forensic Watermarking, Distributor Watermarking, Anti Piracy services, Transcoding and packaging service and App Security with Quick and Simple integration. It is a ONE-IN-ALL solution for OTT owners.
For more info, visit PallyCon or mail [email protected]
PallyCon INKA Entworks
INKA Entworks
+91 22 6278 5717
email us here
Visit us on social media:
LinkedIn
Facebook
Twitter
YouTube
Instagram
PallyCon – Get to know more about our Multi-DRM service


Originally published at https://www.einpresswire.com/article/645360342/pallycon-unveils-cmaf-integration-in-tnp-workflow-elevating-security-in-high-quality-media-content-delivery