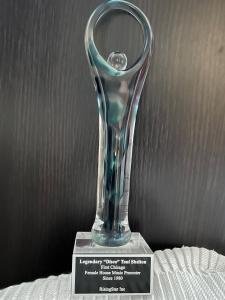 "Disco Toni Shelton" Chicago's Queen of House Music
Life may not be the party we hoped for, but while we're here we should dance."
— TONI SHELTON
CHICAGO, ILLINOIS, UNITED STATES, August 21, 2023/EINPresswire.com/ — CHICAGO, Illinois – (Aug 17, 2023) – Toni Shelton started promoting house music in the 80s while having her famous annual All White Party, but she's still making headlines and waves today. The woman dubbed "Queen of House Music" is being awarded as the "1st Black Chicago Female House Music Promoter." She will receive the award on Aug 11, 2023. A documentary about her involvement in house music is also scheduled for 2024.
"This is an exciting award to win, and I am honored to be getting it," says Toni Shelton. "House music has been such an important part of my life. I will always keep it alive and well!"
Shelton has been hosting parties where House Music has been promoted since the 80s. Her events are significant draws to those who live in the Chicago area and celebrities. Those who have attended her events include Common, Michael Jordan, R. Kelly, Bernie Mac, Keith Fobs, and NBA and NFL athletes. Her events were DJ'd by such legends as Tony Hatchett, Andre Hatchett, and Wayne Williams.
Her influence on the genre has lasted for decades and will continue for many more. She has a collection of video footage and photos from the events she has hosted over the years, and she is frequently called upon for clips that can be used in documentaries and other promotional and creative pieces. She will have a lot of video footage and photos from the collection featured in the documentary about her that will be coming out next year. Her collection of House Music relics is fitting for creating a museum dedicated to the content.
"House music needs to be preserved, and I'm happy to be the one to help do it," added Shelton. "After all, I helped put it on the map, so it only makes sense that I will help keep it notable. It's hard not to love it!"
Shelton hails Chicago's Hyde Park area, where she attended Kenwood Academy, along with other alumni such as singer Chaka Khan, actor Charles Parnell, and singer R. Kelly, to name a few. She is also the mother of professional skateboarder Carlisle Aikens, who is sponsored by Chocolate Skateboards. July 2023, he honored his mother by putting her on his skateboard deck, called "Disco Toni" deck.
In addition to being known for House Music promotion and parties, Shelton is known for being in various publications, modeling, and her humanitarian work. For more information, visit the site at: https://tonishelton.net
About Toni Shelton
A Chicago native, Shelton became known as the "Queen of House" music decades ago for her contribution to promoting the genre. She has had a lengthy and successful career in modeling and celebrity commentating that has spanned the country. She has also been a judge for the "Miss Illinois" pageant, featured in numerous publications, and won several awards for her charity and humanitarian work. For more information about Toni Shelton, visit the site at: https://tonishelton.net
###
JEN DIXON
ANOTHER TONI SHELTON PRODUCTION
+1 747-203-6631
email us here


Originally published at https://www.einpresswire.com/article/650439818/queen-of-house-music-toni-shelton-given-award-for-1st-black-chicago-female-house-music-promoter-40-years