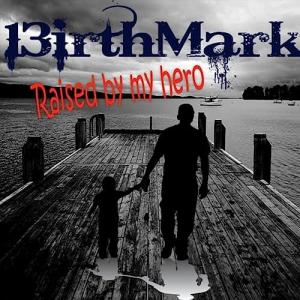 "RAISED BY MY HERO," by 13irthmark is a fusion of Hip Hop and Soul that is a genuine tribute to his father for his unwavering dedication, support and wisdom.
This is the kind of track that bridges musical barriers and speaks directly to the heart of old-school hip-hop culture."
— Music Crowns
GREENSBORO, NORTH CAROLINA, UNITED STATES, August 30, 2023/EINPresswire.com/ — The latest single from North Carolina-based Hip-Hop Soul artist, 13irthmark, "RAISED BY MY HERO," is now available on all streaming platforms, including Spotify, Apple Music, YouTube Music, Tidal, Amazon and more.
13irthmark's fusion of Hip Hop and Soul on this track is more than just music; it's a genuine tribute to his father for exhibiting unwavering dedication, tenacity, and unconditional love for him in the face of divorce and family break ups.
From personal experiences navigating legal complexities to get custody and visitation rights, "RAISED BY MY HERO" by Greensboro, NC Hip Hop artist, 13irthmark, stands out as a tribute to his father for wavering custody battles, visitation rights and child support, and for transcending financial responsibilities to make a positive, lasting impact on him.
In this emotive track, 13irthMark's old-school flavored brand of Hip-Hop is defined by his genuine heartfelt lyrics which have helped him to resonate within the hip-hop community quickly as an unsigned artist. Even as newer independent artist, 13irthmark already has a career spanning four albums, more than a hundred songs, and more than 3,000 albums sold of his debut release without any advertising or marketing budgets.
Known for his dedication to truthful and poignant expression, 13irthmark draws inspiration from acclaimed artists like J Cole, Symba, and Kendrick Lamar. This results in a unique sound that blends J Cole's narrative prowess, Symba's soulful melodies, and Kendrick Lamar's thought-provoking lyricism, resulting in a sound that resonates across multiple genres of hip-hop culture.
For deeper insights into 13irthmark's music and journey, visit his official website: https://13irthmark.com
Follow 13irthmark's evolution online and on social media:
TikTok: https://www.tiktok.com/@13irthmark
YouTube: https://www.youtube.com/user/13irthmark
Facebook: https://www.facebook.com/INVEIGHRECORDS/
Instagram: https://instagram.com/13irthmark
Twitter: https://twitter.com/13irthmark
Listen to "RAISED BY MY HERO" On YouTube
Listen to "RAISED BY MY HERO" On Spotify
"RAISED BY MY HERO" encapsulates the journey of fathers surmounting challenges to emerge as bastions of strength and love for their children. Through this song, 13irthmark paints an inspiring and moving portrait of enduring fatherhood.
Curtis Ruffin Jr.
INVEIGH RECORDS
[email protected]
Visit us on social media:
Facebook
Twitter
Instagram
YouTube
TikTok
RAISED BY MY HERO


Originally published at https://www.einpresswire.com/article/652418886/rising-southern-hip-hop-artist-13irthmark-s-new-single-raised-by-my-hero-celebrates-black-fatherhood-and-resilience