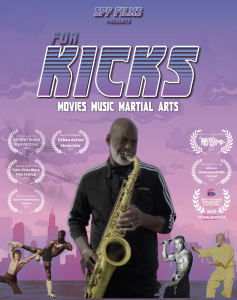 Documentary Honors Aging African-American Martial Arts Maestros, Eugene Thomas, and Ron van Clief, at UASE 11 Premiere
Urban Action Showcase only screens one documentary at their festival every year, so this is a huge honor, and we can't wait to celebrate in NYC with you all"
— Sean Fahey, Director, "For Kicks"
NEW YORK CITY, NY, UNITED STATES, September 27, 2023 /EINPresswire.com/ — "For Kicks is a unique vision!" Journalist, Daniel Patton at Screen Magazine.
"One of the best movies of the year!" Film Critic, Ian Simmons at Kicking the Seat.
On November 11th, 2023, a legendary figure in the world of martial arts cinema will take center stage at the 11th Urban Action Showcase Expo & Film Festival. Eugene Thomas, a celebrated African-American martial artist, will be the focus of Sean Fahey's highly anticipated documentary, "For Kicks," making its New York City premiere at this prestigious event. Presented in partnership with Cinemax, Warner Media, and other industry giants, this special screening promises to be an engaging and inspirational exploration of the extraordinary lives of two aging martial arts movie stars.
NYC Premiere Details:
Date: Saturday, November 11th, 2023
Time: 4:00 PM
Location: AMC Empire 25 Theater, 234 W 42nd St, New York, NY 10036
Tickets: https://www.urbanactionshowcase.com/uase11passes.html
Celebrating Legends:
At the heart of "For Kicks" is the remarkable story of Eugene Thomas, a 67-year-old semi-retired Chicago security guard who rose to international fame in the 1980s as a celebrated actor in ninja movies. This documentary delves deep into his captivating journey, reflecting on his past as an international celebrity and celebrating his present as a jazz enthusiast, living his golden years to the fullest.
Joining Thomas in the spotlight is the legendary 80-year-old Ron van Clief, affectionately known as "The Black Dragon." Having received the title from none other than Bruce Lee himself, Ron van Clief's impact on martial arts cinema is immeasurable. He continues to defy age and expectations, holding the record as the oldest person to ever fight in the UFC Octagon during UFC 4, lasting an impressive 4 minutes against the world champion Royce Gracie. Ron's legacy extends beyond the screen, with deep connections in martial arts royalty and his dedication to Gracie style Brazilian Jiu Jitsu, aiming to earn his BJJ black belt at the age of 84.
A Captivating Portrait:
Sean Fahey's "For Kicks" offers audiences a heartfelt and captivating journey through Eugene Thomas's life, philosophy, music, and unwavering dedication to martial arts. The documentary also features appearances by other celebrated action stars, including Ron van Clief (The Black Dragon) and Carl Scott, celebrating the history and impact of African-American martial arts in cinema.
Filmmaker with a Vision:
With two decades of experience in independent filmmaking, Sean Fahey has a history of creating award-winning works that have been screened and recognized at film festivals worldwide.
Join Us for this Extraordinary Premiere:
Expressing his excitement ahead of the film's NYC premiere, Sean Fahey shared, "Urban Action Showcase only screens one documentary at their festival every year, so this is a huge honor, and we can't wait to celebrate in NYC with you all!"
About Urban Action Showcase Expo and Film Festival (UASE 11):
UASE is the premier Action Film Festival and Convention dedicated to promoting diversity and inclusion within the film, television, comics, and graphic novel industries. Through awards presentations, panels, and seminars, UASE educates and inspires audiences with insights into the Action, Adventure, Fantasy, Martial Arts, Sci-fi, Supernatural, and Superhero genres.
UASE 11 will host national and international filmmakers and writers from 16 countries around the world. We will be screening over 50 hours of content in 5 Theaters, including an Action Expo, Panels, and Seminars. UASE 11 celebrates 5 iconic anniversaries (Enter The Dragon 50th, Revenge of the Ninja 40th, Only The Strong 30th, Blade 25th, and Rush Hour 25th) with screenings and celebrity Fan Meet and Greets, Video Games, AR/VR experiences, and with the SPECIAL SCREENING OF "FOR KICKS" FEATURING ACTION ICONS EUGENE THOMAS AND RON VAN CLIEF.
Get Your Tickets:
General Admission and VIP Tickets are available at UASE 11 Tickets https://www.urbanactionshowcase.com/uase11passes.html
For press inquiries, interviews, and additional information about "For Kicks," contact Workhouse, CEO, Adam Nelson via [email protected].
Join Us for a Cinematic Celebration:
"For Kicks" promises an enthralling cinematic experience, combining action, history, and the enduring spirit of Eugene Thomas. Don't miss the NYC premiere at the Urban Action Showcase Expo and Festival in Times Square on Saturday, November 11th, at 4:00 PM, and join us in celebrating the enduring legacy of African American martial arts in cinema.
adam nelson
WORKHOUSE
+1 9179305802
email us here
Visit us on social media:
Facebook
Twitter
LinkedIn
Instagram


Originally published at https://www.einpresswire.com/article/658204522/sean-fahey-s-for-kicks-celebrating-african-american-martial-artists-premieres-at-11th-urban-action-film-festival