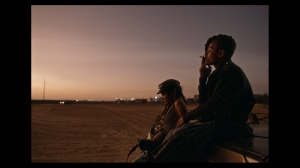 Solar Cinema, an independent film production company from Colombia, announces the launch of its crowdfunding campaign at Seed & Spark platform
We invite everyone, therefore, to join in making this extraordinary project a reality by contributing to our crowdfunding campaign, active from November 7 through December 20."
— Solar Cinema
NEW YORK , NEW YORK , UNITED STATES, November 13, 2023 /EINPresswire.com/ — Solar Cinema has launched a crowdfunding campaign to promote and bring to fruition their latest film, Semilla del Desierto (Seed of the Desert).
Join us: https://seedandspark.com/fund/semilla-del-desierto#story
New York, 11/10/23 – Solar Cinema, an experimental and independent film production company from Colombia with over 10 years of experience in the industry, is excited to announce the launch of its crowdfunding campaign in the United States. The campaign, hosted on the Seed & Spark platform, aims to raise funds to complete its latest production, Semilla del Desierto (Seed of the Desert).
Directed by Sebastián Parra R, this film delves into a significant issue: the premature loss of innocence. Parra R's work sheds light on this profound and painful phenomenon that has left its mark on entire generations. In his film, he shows that this issue transcends geographical borders, making it a universal concern.
Set in the heart of a dystopian universe, "Semilla del Desierto" captures the essence of a battle for love and survival in an environment plagued by desperation and scarcity. The story follows Chelina and Caviche, two young individuals who find themselves on a harrowing journey towards death. To finance the termination of an unwanted pregnancy and seek a way out, they become kamikaze gasoline smugglers.
Parra R explains,"With Seed of the Desert, I want to tell a real story, one that happened 40 years ago and still happens today. The film presents a raw narrative, devoid of embellishments or euphemisms, as it delves into the forbidden and 'morally incorrect' aspects that our society tends to conceal. It is my intention to evoke memories of childhood friends who were prematurely thrust into adulthood, facing challenging realities that stood in contrast to the innocence and fragility of my own fortunate childhood."
Through the use of a narrative consisting of 33 single sequence shots, Seed of the Desert presents a testament to the resistance against the impossible. This film stands as a revolutionary work for Latin American cinema. With each sunset, nature itself seems to reveal its secrets, enabling the technical team to overcome the overwhelming barriers of the desert wind. In this way, the film finds its artistic identity in its unique universe, captivating music, stunning photography, and immersive sound.
Thanks to the technical and artistic expertise employed in sound and imagery, viewers will become immersed in an oppressive and suffocating atmosphere. Each shot effectively portrays the relentless aridity of the landscape, transforming the vastness of the desert into an invisible prison that stimulates the senses to the point of making the audience uncomfortable and breathless. The dialogue and performances of the street-casted actors strip viewers of their roles as mere observers, engaging them as active participants in the raw intensity of the unfolding story. According to Producer Andrés Gómez D, "Seed of the Desert offers a cinematic experience that pushes the boundaries of perception, reaffirming the profound influence of art on our emotional and physical experiences."
Seed of the Desert is a testament to the power of authentic storytelling that takes risks and evokes deep emotions. While Solar Cinema has received some support from the Cinematic Development Fund, we need further support from those who value and appreciate such endeavors. We invite everyone, therefore, to join in making this extraordinary project a reality by contributing to our crowdfunding campaign, active from November 7 through December 20.
About the donation incentives
Participating in our crowdfunding campaign to complete this film goes beyond a simple contribution. It presents an opportunity to become an integral part of this groundbreaking work in Latin American cinema.
Our valued contributors, whom we proudly refer to as the "SOLAR COMMUNITY," will receive a range of exclusive incentives. These include featured mentions on our social media platforms, special passes for a private film screening, recognition in the final credits, and the chance to acquire the film's soundtrack and a limited edition collector's book containing unpublished photographs and insightful texts about the film. Furthermore, we offer a unique opportunity to become executive producers of one of the most disruptive pieces of Latin American cinema to date.
Your collaboration will help us bring this compelling film to life and play a crucial role in strengthening the Latin-American film industry.
Maria Fernanda Cardenas
Solar Cinema
+1 802-224-5511
email us here
Visit us on social media:
Facebook
LinkedIn
Instagram
TikTok
Other
Videopitch_Semilla del desierto_Seed&Spark


Originally published at https://www.einpresswire.com/article/667728463/solar-cinema-has-launched-a-crowdfunding-campaign-to-bring-to-fruition-their-the-latest-film-semilla-del-desierto