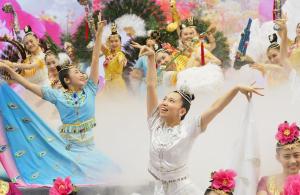 Cultural Gems: Love and Prayers for the World, the culmination of more than 6,000 years of cultural heritage and the art of martial arts, is coming to the cultural capital California of the United States.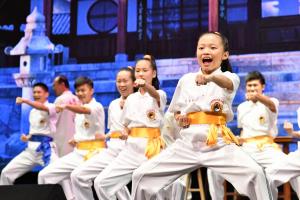 Emerging from the deepest wellsprings of ancient culture, this heartfelt journey offers the audience a profound experience brimming with positivity and sincerity.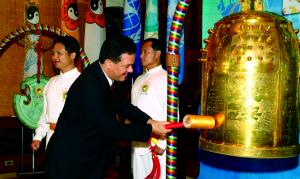 In 2005, President Fernández, then President of the Dominican Republic, rang the Bell of World Peace and Love and made a wish of peace.
The Bell of World Peace and Love Awakens World Citizens' Conscience
An excellent culture is the foundation of a quality education, which is essential for sustainable economic development. A prosperous economy is necessary for a high quality of life of all."
— Dr. Hong, Tao-Tze, Zhang-Men-Ren (Leader) of Tai Ji Men
CALIFORNIA, UNITED STATES, October 4, 2023 /EINPresswire.com/ — What kind of national treasure is it that can move a representative of the British Royal Family, who commended the public welfare and cultural organization Tai Ji Men as a model of unity of knowledge and action? With its unique presentation of martial arts training, Tai Ji Men has achieved numerous astonishing historical accomplishments in the United States, Australia, and many other countries, touching the hearts of people across all six continents! Now, "Back to the Origin," a new rendition of the classic play, and "Cultural Gems: Love and Prayers for the World," an artistic representation of martial arts with a history spanning over 6,000 years, are set to grace California, the cultural hub of the United States and the global center of film and television. Don't miss out on this grand performance! Get a sneak peek of Tai Ji Men Cultural Gems at: https://www.youtube.com/watch?v=_ziWOHWxfa4
and https://spotify.link/Ia7dHcDrvDb
Performances in San Jose
★ October 6 (Friday)
Theme: Back to the Origin
Time: 7 – 9 p.m.
★October 7th (Saturday)
Theme: Cultural Gems: Love and Prayers for the World
Time: 2-5 p.m. and 7-10 p.m.
Venue: San Jose Center for the Performing Arts
Address: 255 S Almaden Blvd, San Jose, CA 95113
Reserve free tickets at: https://www.taijimen.org/events/sj-opening
Performances in Pasadena
★October 15th (Sunday)
Theme: Back to the Origin
Time: 2 – 4 p.m.
Theme: Cultural Gems: Love and Prayers for the World
Time: 7 – 10 p.m.
Venue: Pasadena Civic Auditorium
Address: 300 E Green St, Pasadena, CA 91101
Reserve free tickets at: https://www.taijimen.org/events/la-opening
-Reverberations: Calls of Conscience Inspired
This heartfelt journey, rooted in the deepest cultural traditions, is a celebration of the grand opening of the Tai Ji Men Santa Clara and Pasadena Academies. Through a sensory and emotional feast, the audience will be infused with positive energy and genuine blessings, carrying forward the most potent force in the advancement of civilization – love and conscience. Together, we can change the world with love and conscience.
Bobby Rush, former U.S. Congressman and Chairman of the Host Committee of the Parliament of the World's Religions: "I am very inspired by the call to conscience and consciousness. And it has been a life altering experience for me." California State Senator Dave Cortese said that he has been to Tai Ji Men many times to let everyone know that he recognizes the dedication and hard work that Tai Ji Men has done and will continue to do in the future. California State Assemblywoman Blanca Rubio said that Tai Ji Men has been encouraging residents to improve their physical and mental health through qigong for many years. Qigong continues to bring positive energy to families, workplaces and communities throughout the region.
Kevin Park, Vice Mayor of Santa Clara, expressed that Tai Ji Men is a valuable resource for every community and all age groups. He believes that if there were more places like Tai Ji Men in the world, fewer people would lose their way. He also found inspiration in their message. Linda Freedman, Vice Mayor of Walnut, noted the significance of following one's conscience and making decisions that benefit oneself, friends, family, and the community. She found these words to be valuable for all
-Echoes from All Walks of Life: Bells of Universal Peace
Tai Ji Men will also organize a solemn ceremony of ringing the "Love of the World Peace Bell" at this important milestone, inviting important leaders to ring the bell to pray for the world's peace, health and happiness, and the sustainability of world peace.
Jerry White, winner of the 1997 Nobel Peace Prize, rang the bell and exclaimed that it was an important bell symbolizing peace in the universe. Governor Gordon Samuels AC, the royal representative of Queen Elizabeth in New South Wales, Australia, rang the bell and praised: "We must commit ourselves to a future of peace, of reconciliation and harmony. It is not difficult of course to produce the appropriate words when one is speaking of such a thing. What is difficult, also peoples have always found it, is to match deeds to the words. Tai Ji Men understands this and understands that our conduct must mirror our words, must match our sentiments. We must learn how to live in peace and examples of the kind before you today point us in the direction in which we should travel." Ed Royce, former U.S. Congressman and Chairman of the House Foreign Affairs Committee, expressed, "I've been to many countries in the world, I have not been to as many countries as this bell has visited. And, so that also is a powerful thought, that we are reaching out to every culture, every community around the world and spreading the message, it's a humbling feeling."
About Tai Ji Men
Tai Ji Men is an international, non-profit cultural organization dedicated to preserving Tai Ji Men culture and promoting the physical, mental, and spiritual well-being of people worldwide. In the year 2000, Dr. Hong, Tao-Tze, the leader of Tai Ji Men, established two Tai Ji Men Academies in California. This year, in October, Dr. Hong will be hosting the inauguration of a new academy in Santa Clara and Pasadena respectively. Over an extended period, Dr. Hong has led Tai Ji Men disciples and members of the Federation of World Peace and Love on self-funded tours across six continents to promote a culture of peace rooted in love and conscience. Dr. Hong played a pivotal role in establishing the United Nations' International Day of Conscience and received the President's Lifetime Achievement Award from U.S. President Joe Biden in March of this year. This award recognized the 1.2 million hours that Dr. Hong and members of the Federation of World Peace and Love have dedicated to the United States.
Contacts of Tai Ji Men Qigong Academy:
[email protected]
[email protected]
[email protected]
Jenny Hsiung
Tai Ji Men Qigong Academy
[email protected]
Visit us on social media:
YouTube
Other
Cultural Gems- Transcending Time and Space Back to the Origin


Originally published at https://www.einpresswire.com/article/659730433/tai-ji-men-brings-cultural-feast-of-over-six-thousand-years-of-heritage-to-the-united-states