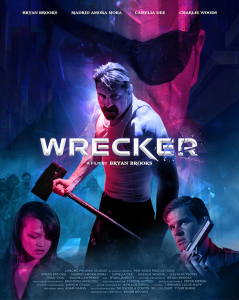 Cult Classic Films Are Years In The Making
I think that's the true test of a film. Do you want to see it more than once? If the answer is no, then the filmmaker has failed to resonate with his audience."
— Bryan Brooks
CHICAGO, ILLINIOS, USA, October 23, 2023 /EINPresswire.com/ — In the vast realm of cinema, there exists a rare breed of films that, despite initial commercial failure, manage to captivate audiences and gain a devoted following over time. These movies, known as cult classics, often defy conventional storytelling and challenge societal norms. Sometimes films take years, even decades to achieve cult status. Usually obscure or unpopular with mainstream audiences, films that eventually achieve cult status are often revolutionary in some way, breaking away from the norm.
The term "cult film" or "cult classic" describes a film that has established a dedicated fanbase over time. These films are a staple of the American movie audience's diet, especially during the Halloween season. Plenty of horror movies that bombed at the box office have become revered as masterpieces of their genre. Richard Kelly's film Donnie Darko (2001) was ill received by audiences and considered a box office failure but now, over 20 years later, it is revered as a classic psychological thriller. Event Horizon (1997) also flopped domestically but has recently earned a following for its uniquely dark Sci-Fi storyline. Despite its celebrated status today, The Thing (1982) was seen as a total failure upon its initial release in 1982. Made on a budget of $15 million, The Thing grossed only $19.6 million in theaters, not nearly enough to come out in the black after marketing costs. Brian De Palma's Scarface (1983) received mostly negative reviews upon release and received disappointing box office returns, but 40 years later T-shirts featuring Tony Montana are worn by teenagers world wide.
In horror, a strong idea can be enough to elevate even a low-budget project to impressive heights. Bryan Brooks' film Wrecker (2022) is an example of a film that is destined to achieve cult classic status in the near future. Brooks, a Bering Sea crab fisherman turned filmmaker, spent years writing the film he always wanted to see. "When I was growing up, my dad took me to every film that hit the theater. We saw love stories, action films, horror films, you name it. Dad loved the escape the cinema provided and wasn't afraid to take me along for the ride. He took me to see Alien back in 1979 when I was just 7 years old. It chilled me to the bone, but he whispered to me during the scary parts and reassured me that it was all just make believe. I'm so happy he wasn't afraid to take me along to see scary movies, like American Werewolf in London in 1981. Those movies were written by master storytellers and crafted perfectly to send chills down the spine of everyone in the theater, and those experiences are what molded my yearn to become a storyteller myself." – Bryan Brooks.
Brooks' decision to become a filmmaker came after a devastating life event. While working aboard the Arctic Wind crabbing vessel, the crew was hit by a 62' rogue wave and nearly capsized. Brooks was crushed underneath a crab pot weighing 800 lbs and suffered severe damage to his left shoulder and both knees. "After the crane pulled the crab pot off my body, I limped into the galley of the boat and glanced at myself in the mirror. Blood streamed down my neck. I almost died. Why was I doing this with my life? Why wasn't I following the dream I had since I was a child to become a filmmaker?"
After the accident, Brooks dedicated his life toward learning the arts of storytelling and cinema. Determined to create the film he always wanted to see, he styled his characters and story with an 80s theme, like the films he loved growing up. A main character as gritty as Rambo, an antagonist with the toughness and flair of the Kurgan in Highlander, a sharpshooter like Eastwood's Man With No Name, toss in some stripper assassins and beautiful maidens, throw in a few fire performers and dungeon butchers and roll it all into a plot involving drug induced zombies. When it's all listed out it might sound ridiculous, yet Brooks' artistically filmed feature pulls off a very enjoyable movie experience that is as funny as it is exhilarating. A bit tongue in cheek, like his favorite cult classic Army of Darkness (1992), Brooks aimed to create a fun horror film that audiences would love to see again and again. "I think that's the true test of a film. Do you want to see it more than once? If the answer is no, then the filmmaker has failed to resonate with his audience. But I am hearing from fans over and over again that they have watched Wrecker more than once. That says a lot to me and makes me very proud." Brooks debuted his film Wrecker on Amazon Prime in 2022 and has seen steady success in the passed year. Currently the film has been released on Tubi and YouTube Movies. Only time will tell if Brooks can achieve his dream of creating his own cult classic.
Bryan Petersen
Chrome Phoenix Studios
email us here
Visit us on social media:
Facebook
Twitter
Instagram
YouTube
TikTok
Wrecker (2022) Trailer


Originally published at https://www.einpresswire.com/article/663577443/the-anatomy-of-a-cult-classic