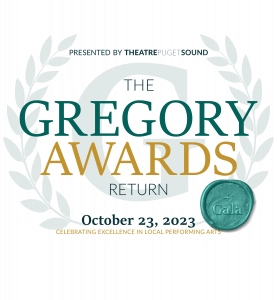 After a 4-Year Hiatus, the Regional Theatre Awards Return. Theatre Puget Sound presents the gala event October 23, 2023, and relaunches show nomination process.
I believe Theatre Puget Sound's emerging role is to help artists and art organizations return from the brink of disaster. Reviving The Gregory Awards is a necessary step to thriving once again."
— Dr. Crystal Yingling
SEATTLE, WA, USA, September 27, 2023 /EINPresswire.com/ — Theatre Puget Sound (TPS) is proud to announce the return of the annual GREGORY AWARDS to be held in the Seattle Center Theatre Fisher Pavilion on Monday, October 23, 2023. Now in its 23rd year, the TPS-presented Gregory Awards have been the biggest and best way for local theatre and theatre artists to be seen and recognized for their outstanding work. This year the 2023 Gregory Awards + Gala will present a few key awards to include the Gregory A. Falls Sustained Achievement Award while raising the funds necessary to relaunch a reimagined year-long show auditing and nomination process followed by a full-scale awards ceremony in 2024.
This year's Gregory Awards will be more like the early years with the Sustained Achievement Award presented in a gala format, but this year TPS also aims to raise the funds necessary to bring the Gregory Awards back full-scale as they have been in more recent years and with a reimagined purpose. The ultimate goal in the re-envisioned year-long nomination, auditing, and awarding process is to better represent diversity of artists, organizations, and geographic areas throughout Puget Sound. Organizations will be able to begin submitting their shows for consideration starting next month.
TPS' first effort in eligibility expansion has already begun with the initiation of the People's Choice Award for Outstanding Performing Arts Organization of the years 2020-2023 for 5 separate geographical locations: North, South, East, West, and Central (Seattle). Public vote is available here: https://theatrepugetsound.org/the-gregory-awards/#vote. These 5 one-time-only awards recognizing excellence over this 4-year period will be awarded during this year's ceremony.
TPS Executive Director Dr. Crystal Yingling's excitement over the Gregory Awards' return is palpable. "Over the past few years, the world has turned upside down. It's time for us to successfully navigate this new world, and I believe TPS' role is to help artists and art organizations do so safely and prosperously. Reviving The Gregory Awards is a necessary step to thriving once again. Personally, I cannot wait for this keystone event to reemerge and our community to come together again in celebration."
As in previous years, the 2023 Gregory Awards will begin with a VIP reception and red-carpet event beginning at 4:30pm PST. Renewed for this year, a plated Gala Dinner with entertainment and awards presentations will begin at 6:00pm. Brand new for this year, a Community After Party with snacks, drinks, a DJ, and dancing will be held at the same location and begins at 9:00pm. The raffle and online silent auction will remain open for all who want to participate until 10pm PST. Gala ticket pricing starts at $150. After Party admission is included with each gala ticket or can be purchased separately for a $20 cover charge. All proceeds from the event will go toward the relaunch of the full Gregory Awards and 2024 Gregory Award Ceremony.
As the necessary year-long nomination process has yet to relaunch, there will not be a grand award ceremony as it had been presented in the most recent years; however, the purpose of the gala, raffle, and silent auction portions of this year's event is to make the return of the grand ceremony portion (more similar to those in the 2010's) possible including a year's worth of show review and recognition.
TPS will announce additional updates and improvements as they are solidified. A lot has changed since the last Gregory Awards happened in 2019, right before the first COVID shutdown. It is TPS' hope that the awards will, over time, transform in order to meet some of the new opportunities and challenges that come with these "unprecedented, uncertain times." Announcements of new Gregory Award categories, expanded organization eligibility, instructions on submitting shows for consideration, and the selected 23rd Gregory A. Falls Sustained Achievement Award honoree will be released in the coming weeks.
About The Gregory Awards
The Gregory Awards are a set of honors dedicated to theatre in Washington State. Administered, funded, and produced by Theatre Puget Sound, the Gregory Awards bring together theatre artists and audiences to celebrate and honor the outstanding achievements of practitioners, and to raise the visibility of the performing arts in our region. Beginning with a single category in 1998 as the Gregory A. Falls Sustained Achievement Award, the honors have grown to encompass more than 20 categories.
About Theatre Puget Sound
Theatre Puget Sound (TPS) is a leadership and service membership organization founded in 1997. A 501(c)3 nonprofit, TPS works to foster and advocate for a robust and equitable theatre community by promoting theater as a profession for all individuals, increasing access to the art form; and providing support for institutions seeking to become anti-racist and for who wish to support healthy and inclusive practices in their creative endeavors. TPS has been one of the Northwest's leading arts advocacy and leadership organizations, providing programming and services that benefit both the theatre community and the larger regional arts community. In addition to THE GREGORY AWARDS, TPS hosts the region's Unified General Auditions which since 1999 has been Seattle's single most important audition of the year, manages 25,000 square feet of affordable rehearsal and performance space in the Seattle Center Armory through their Space4Arts initiative, promotes other events which strengthen and celebrate our local community, sponsors workshops and seminars, and serves as an on-line and in-person community hub for the industry.
Visit www.gregoryawards.com to learn more, secure a ticket to the gala, or enter your shows for 2024 consideration.
Dr. Crystal Yingling
Theatre Puget Sound
+1 717-265-3037
email us here
Visit us on social media:
Facebook
Twitter
LinkedIn
Instagram
YouTube
TikTok


Originally published at https://www.einpresswire.com/article/658174794/the-gregory-awards-return