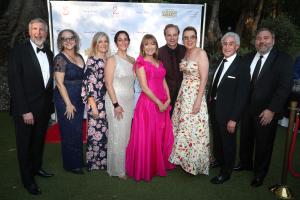 Open Hearts Foundation's Board members, Executive Director and recent honorees at its 2023 Celebratory Gala. Photo Credit @jenlowreyphoto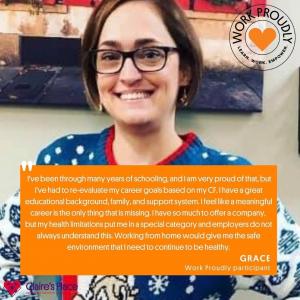 Grace, who has Cystic Fibrosis, explains why Claire's Place Foundation's Work Proudly program is so important to help her thrive.
Whitney Reuling, Executive Director, stated, "Sonoma Family Meal cultivates the community and creates opportunities by providing job training, quality emergency meals, and supporting the local food system."
Inspired by its selfless philosophy, the Foundation invests $250,000 to support high risk communities across the United States.
I find it incredibly inspiring what like-minded individuals and businesses can do when we work together. Everyone is invited to join us in the Open Hearts Movement."
— Jane Seymour, Co-Founder and Board member, Open Hearts Foundation
WESTLAKE VILLAGE, CA, UNITED STATES, September 11, 2023/EINPresswire.com/ — The Open Hearts Foundation announced its latest grantmaking cycle in alignment with its Open Hearts Philosophy, which is inspired by Jane Seymour's mother, Mieke Frankenberg. This philosophy drives the Foundation's mission forward and this latest grant cycle will fund $250,000 to charities across the United States. The Foundation has focused these grant investments primarily to support small, emerging charities with budgets of less than a million dollars. In a high demand request for proposals, over eighty eligible charities requested funding from the Foundation totaling over $1.3 million dollars. Through the Foundation's extensive internal vetting process, 19 charities will receive grants to support their lifesaving programs and services in Arizona, California, Florida, Georgia, Nebraska, New Hampshire, Oklahoma, Pennsylvania, Texas, and Virginia. These charities serve high risk communities in need of food, clothing, hygiene kits, medical services, mental health resources, and workplace readiness programs so that children and families can continue to thrive.
Nonprofit charities are still recovering from the recent pandemic, while government and other funds have waned or ceased all together. Charities are seeing an increase in the needs of the people they serve due to job loss, inflation, and rebuilding efforts from recent natural disasters. In response to this need, the Foundation remains committed to supporting as many charities as it can. These grants will aid foster children, the poorest of communities, the unhoused, and the mentally challenged. At the heart of the Foundation's mission is the selfless philosophy that inspires everyone to help, to act, and to serve the vulnerable. In addition to these grants, the Foundation will continue to be responsive through its volunteerism program and other initiatives that will empower its more than sixty charity partners in the months ahead.
Jane Seymour stated, "With the kindness and generosity of our global family of donors, we could not be more thrilled to invest these funds in these resilient emerging charities. We have more work to do to curate connections and bring help to so many that need it. I find it incredibly inspiring what like-minded individuals and businesses can do when we work together. Everyone is invited to join us in the Open Hearts Movement."
Tim Mallad, Chair of the Foundation's Board of Directors, shared, "Our Board is determined to transform our mission into a movement. The need continues to increase and our commitment to our grantmaking and volunteerism programs continues to grow. These grants are one example of many that we plan to make. We are so grateful to all our sponsors, donors, in-kind partners, and volunteers who join us in turning adversity into opportunity and creating change for the greater good."
The Open Hearts Foundation is responsible for the careful stewardship of its donors' contributions and requires each non-profit to submit a Final Report explaining how the funds were used and the impact they achieved.
More detailed information about all 19 charities and the Foundation's grantmaking program can be found at https://www.openheartsfoundation.org/grant-making
Trena Pitchford
Open Hearts Foundation
+1 805-852-1367
email us here
Visit us on social media:
Facebook
Twitter
LinkedIn
Instagram
YouTube


Originally published at https://www.einpresswire.com/article/655119114/the-open-hearts-foundation-funds-19-grants-to-emerging-charities