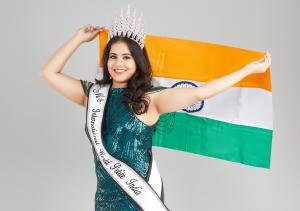 The most remarkable aspect of Rhia's journey is her relentless pursuit of dreams despite societal norms. As a petite,she was told She could never be Miss India.
MUMBAI, MAHARASHTRA, INDIA, October 17, 2023 /EINPresswire.com/ — In a world that often equates beauty with height, there emerges a petite gem who defies stereotypes and embraces her uniqueness with grace and determination. Meet Rhia, the reigning Ms. International World Petite India 2023, a name that has become synonymous with the triumph of dreams, passion, and sheer resilience. Her journey of being a star-struck child with the dream to win the crown some day to making it into a reality by winning the National Crown of The International Glamour Project Miss India 2021 has been nothing short of inspirational. Now, she is also a professional model with the guidance received from TIGP Training Institute for Modelling, Pageantry & Personality Development. She has modelled for prestigious brands like Loreal, Matrix, Baggit and many more.
One of the most remarkable aspects of Rhia's journey is her relentless pursuit of her dreams despite the societal norms and prejudices that she faced. As a petite individual, she was often told that she could never be Miss India. The world of pageantry has predominantly been seen as the domain of tall, lanky figures. However, Rhia proved that true beauty knows no height, and that talent, poise, and confidence could shine through any stereotype. She found her path through The International Glamour Project® (TIGP), a platform in India that recognizes talent irrespective of body frame, challenging the conventional norms of the industry. Rhia's association with The International Glamour Project® marked a turning point in her journey. She joined TIGP three years ago, and it became her training ground, the crucible where her dreams took shape. This platform not only recognized her potential but also nurtured and honed her skills, enabling her to emerge as a formidable talent in the world of modeling and pageantry.
Her accomplishments extend beyond the runway and photo shoots. She has ventured into the world of acting, starring in the web series 'Journey of a Queen' and a short film called 'The Rising Queens.' The latter was even submitted to the prestigious New York Film Festival in October 2022. This diversification of her talent showcases her versatility and her courage to explore new horizons.
Behind every success story, there is a strong support system, and Rhia is no exception. Her parents, recognizing her passion and determination, have been pillars of strength throughout her journey. Their unwavering support has not only been a source of encouragement but also a testament to the fact that dreams are worth chasing, regardless of the challenges. Moreover, Rhia's fiancé has been her constant cheerleader, providing the motivation and emotional support required to pursue her dreams with fervor.
As Rhia stands on the threshold of competing in the Ms. International World Petite 2023 pageant in Miami, representing India with grace and confidence, her journey comes full circle. This event is not just a pageant; it is a platform to showcase the strength, determination, and beauty that Rhia embodies. It is a platform that transcends borders, bringing together remarkable women from across the globe, each with their unique story to tell. It is a testament to the fact that the world of pageantry has evolved to recognize and embrace diversity. Rhia's presence in the Ms. International World Petite 2023 is a powerful message to young girls everywhere that they can dream big and achieve their goals, no matter what obstacles they face.
Rhia says,"Your dreama are not defined by height but by the strength of your character, determination, and the courage to chase your dreams."
She is more than just a beauty queen; she is an inspiration, a symbol of breaking barriers, and a beacon of hope for anyone who has ever been told they cannot achieve their dreams. As Rhia prepares to grace the stage of Ms. International World Petite 2023 representing India, we can't help but be captivated by her unwavering spirit and the radiant beauty that radiates from her very core.
TIGP Team
The International Glamour Project
email us here
Visit us on social media:
Facebook
Instagram
YouTube
TIGP TEEN INDIA , MISS INDIA , MRS INDIA GRAND FINALE SEASON 2
https://www.youtube.com/watch?v=LjQvki0LhwI


Originally published at https://www.einpresswire.com/article/662208678/tigp-petite-queen-with-a-majestic-dream-rhia-s-journey-to-ms-international-world-petite-2023