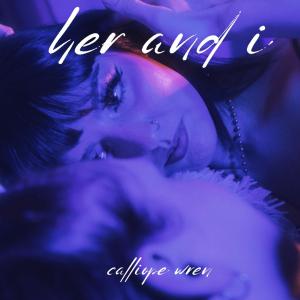 On June 25th, Pride 2023; "Her and I" made the TSX Billboard in the heart of Times Square
To put out this song that's so true and freeing during the month of Pride and have it displayed in the city, there are no words to describe how I feel. All I can say is I'm grateful."
— Calliope Wren
NEW YORK, NY, UNITED STATES, June 27, 2023/EINPresswire.com/ — Singer/songwriter, musician, and advocate for the LGBTQ Community Calliope Wren has announced the video for her anthemic new single "Her and I" is now available on YouTube.
WATCH: Her and I on YouTube
https://www.youtube.com/watch?v=w3RjJYWs-yg
Directed & Produced by Nikki Silva, the video for "Her and I" celebrates pride, personal freedom and the journey of individual exploration in line with its June Pride Month release.
"For people who may need a song like this (I know I did when I was exploring my sexuality), it's about the embracing of something new and different, that just feels right."
On June 25th, Pride 2023; "Her and I" made the TSX Billboard in the heart of Times Square, just left of the red tourist stairs.
"To put out this song that's so true and freeing during the month of Pride and have it displayed in the city, there are no words to describe how I feel. All I can say is I'm grateful."
LISTEN: Her and I on Spotify
https://open.spotify.com/track/0twyHe0dDUQciFOImM6DjB
As is said of the wren, "for such a small bird, it has a remarkably loud voice", and Calliope Wren has been stretching those powerful pipes.
Not unlike her ancient ancestral namesake, Calliope (Wren) is "pure eloquence. Her poetry is epic! The ecstatic harmony of her voice makes her the Chief of all Muses".
TikTok
https://www.tiktok.com/@calliopexmusic
Instagram
https://www.instagram.com/calliopewren
Facebook
https://www.facebook.com/calliopexmusic/
Twitter
https://twitter.com/calliopewren
Richard Eberle
Magnetic Vine
+1 516-729-6872
email us here
Her and I – Calliope Wren


Originally published at https://www.einpresswire.com/article/641573631/watch-lgbtq-advocate-calliope-wren-presents-provocative-video-for-pride-anthem-her-and-i