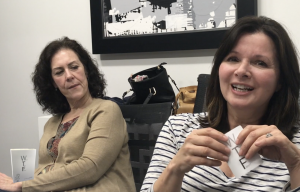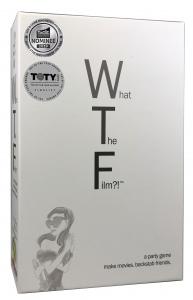 What The Film?! a party game, Toy of the Year Finalist and TAGIE Award Finalist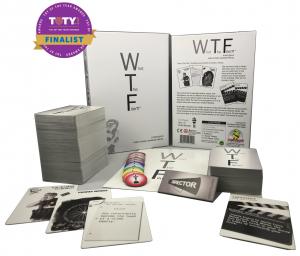 What The Film?! board game contents from Lethal Chicken Games
Through the Turmoil, Underground Creativity Flourishes: 'What The Film?!' Game Offers Light-hearted Relief to Striking Industry Professionals
At Lethal Chicken Games, our goal is to create lighthearted, family-friendly games that we also want to play as adults."
— Alex Mackey
HOLLYWOOD, CA, USA, August 8, 2023/EINPresswire.com/ — The entertainment industry is still reeling with a double crisis as both the Screen Actors Guild (SAG-AFTRA) and the Writers Guild of America (WGA) continue to strike, bringing film and television productions to a grinding halt. As studios and networks struggle to navigate the challenges posed by these labor disputes, a ray of light has emerged in the form of the popular party game, What The Film?!, providing striking industry professionals with a much-needed dose of creative relief.
Amidst this industry turmoil, a quirky and light-hearted game is gaining traction among the striking professionals. What The Film?!, a board game from Lethal Chicken Games encourages players to pitch their own outrageous movie ideas and it has become a welcome distraction for industry insiders. Players draw random Actor, Plot, and Set Cards, and then have a limited time to craft a movie pitch incorporating these elements. The game's unique twist lies in the Industry Cards, which introduce unexpected challenges that players must incorporate into their pitches.
"During these stressful times, What The Film?! has been a much-needed release for us," said Larry Bagby, an actor currently on strike. "It's been a blast to come up with wild movie pitches and see how creative everyone gets. It's a breath of fresh air." Bagby is co-starring in Kevin Costner's new film saga, Horizon as Bill Landry. He is also known for his roles as Ice in Hocus Pocus and as Marshall Grant in Walk the Line.
The game has gained popularity due to its ability to spark creativity, foster camaraderie, and offer a lighthearted escape from the rigors of the strike. The game's rapid-fire format and unpredictable Industry Cards have prompted players to think on their feet and concoct imaginative storylines that elicit laughter and applause.
"Creativity is at the heart of our industry, and What The Film?! captures that spirit perfectly," said Alex Mackey, co-creator of What The Film?! Mackey has also worked in the film and television industry for the past two decades. "It's a reminder that even in the midst of serious negotiations, we can create moments of joy and inspiration."
As the Writers' and SAG-AFTRA strikes continue to make headlines, What The Film?! stands as a symbol of resilience and creativity within the entertainment community. While the industry navigates complex negotiations and ongoing disruptions, this innovative board game provides a much-needed dose of laughter and imaginative thinking, proving that even in the face of adversity, the show must go on – albeit in a more light-hearted form.
What The Film?! is available on Amazon and at select Barnes & Noble.
Alex Mackey
Lethal Chicken Games
+1 310-902-6930
email us here
Visit us on social media:
Facebook
LinkedIn
Instagram
YouTube
Other
What The Film?! how to play and reviews from industry insiders.


Originally published at https://www.einpresswire.com/article/648801861/what-the-film-provides-creative-spark-amidst-writers-and-sag-aftra-strikes