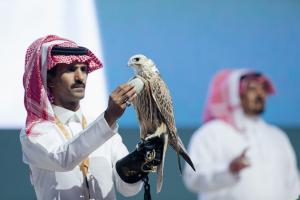 A Saudi Locally-Bred Falcon Fetches the Highest Price in the Middle East, Amounting to $134,000
RIYADH, SAUDI ARABIA, August 19, 2023/EINPresswire.com/ — The sixth night of the International Falcon Breeders Auction, hosted by the Saudi Falcon Club at its headquarters in Malham (north of Riyadh city), has witnessed the sale of the most expensive Hur falcon from Saudi local breeding in the Middle East for an amount 500,000 Saudi riyals ($134,000), surpassing the previous record of 270,000 Saudi riyals .
The auction began with the first falcon, a Hur falcon, from "Al-Nader Falcon Center". The bidding started at 50,000 riyals before it was sold for 500,000 riyals. The second falcon, also a Hur from "Al-Dahas Falcon farm", was subsequently auctioned and sold for 70,000 riyals.
The Saudi Falcon Club presents a selection of falcons on the auction. The bidding is conducted transparently, amidst live broadcasts through television channels covering the event and club accounts on social media platforms. The club announces the falcons will be auctioned before each auction night.
The International Falcon Breeders Auction welcomes visitors daily from 4 pm until 11 pm, from August 5 to 25.
The International Falcon Breeders Auction represents a reliable and secure market for falconers and falcon breeders, contributing to achieving the vision that the Saudi Falcon Club cherishes which is being the leaders who develop and innovate the hobby of falcon breeding and care. It acts as a cultural and economic supporter and a platform to enhance environmental awareness.
Abdulrhman Alaabsi
SFC
email us here


Originally published at https://www.einpresswire.com/article/650821965/a-saudi-locally-bred-falcon-fetches-the-highest-price-in-the-middle-east-amounting-to-134-000