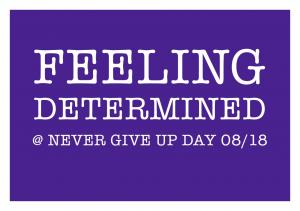 WASHINGTON, UNITED STATES, August 18, 2023/EINPresswire.com/ — Vancouver, WA – In a world grappling with environmental challenges, there emerges a day of shared commitment and unwavering resolve – August 18. On this day, climate activists around the globe come together to embrace the spirit of Never Give Up Day, a celebration that resonates deeply within their cause.
August 18 is a call to action for those who stand on the frontlines of environmental advocacy. It is a day when climate activists, fueled by the unbreakable belief in a sustainable future, unite to reaffirm their dedication to the cause. This celebration is not merely a date; it's a reminder that the journey to protect our planet is fraught with obstacles, but the choice to persevere remains steadfast.
Climate activists harness the essence of Never Give Up Day as they confront challenges head-on, transform setbacks into stepping stones, and continue to advocate for positive change. This day symbolizes the collective determination to rise above adversity, to rally communities, and to inspire worldwide action towards a healthier and greener world.
Join the movement and be a part of the nationwide celebration of Never Give Up Day on August 18. Share your stories of triumph, hope, and determination using #NeverGiveUpDay, and together, let us inspire a nation that stands strong, united in the face of life's trials, because our planet's well-being is a cause worth fighting for – today, tomorrow, and for generations to come. Visit http://www.nevergiveupdayshop.com to access your free Never Give Up Day ribbon image. For more information about Never Give Up Day, please visit http://www.nevergiveupday.com
100 Cities proclaimed August 18th as Never Give Up Day
USA: Sunnyvale (CA), Wenatchee (WA), Bossier City (LA), Lakeland (FL), Thornton (CO), Cibolo (TX), Deland (FL), Greenville (NC), Milwaukee (WI), Linden (NJ), Fate (TX), Tempe (AZ), Springfield (OR), San Marcos (TX), Brownsville (TX), Loveland (CO), Oakley (CA), Boulder (CO), Rocklin (CA), Kauai (HI), Wichita Falls (TX), Grand Rapids (MI), Vancouver (WA), Friendswood (TX), Surprise (AZ), Niagara Falls (NY), Perris (CA), Fayetteville (AR), Irving (TX), Warren (MI), Sugar Land (TX), Corpus Christi (TX), Baltimore (MD), Memphis (TN), Las Cruces (NM), Berkeley Township (NJ), Kinston (NC), North Miami (FL), Toledo (OH), Manteca (CA), Hutto (TX), Glendora (CA), Laramie (WY), Austin (TX), Killeen (TX), Independence (MO), Montgomery (AL), Attleboro (MA), Mission Viejo (CA), Shawnee (KS), Milpitas (CA), Waco (TX), Sachse (TX), Shawnee (OK), Reno (NV), Dayton (OH), Naugatuck (CT), Lancaster (TX), Florissant (MO), North Las Vegas (NV), Daytona Beach (FL), Edinburg (TX), Titusville (FL), Kansas City (MO), Louisville (KY), Durham (NC), Port St. Lucie (FL), San Jose (CA), North Port (FL), Manassas (VA), Union City (NJ), Attleboro (MA), Murrieta (CA), Deltona (FL), Riverside (CA), Westminster (CA), San Bernardino (CA), Santa Fe (NM), Waxahachie (TX), Summerville (SC), Altoona (PA), Columbia (SC), Corona, (CA), Rialto (CA), Columbus (GA), Asheville (NC), Gainesville (FL), Houston (TX), Bridgeport (CT), Greensboro (NC), Palm Bay (FL), Hofmann Estates (IL), Virginia Beach (VA), East Hartford (CT), DeSoto (TX), Pittsburgh (PA)
Canada: Halifax (NS), Victoria (BC), Burlington (ON), Brampton (ON), Regina (SK), Niagara Falls (ON), Red Deer (AB), Saanich (BC), Newmarket (ON), Surrey (BC)
Alain Horowitz
Never Give Up
+1 929-388-2146
email us here
Visit us on social media:
Facebook
Twitter
Instagram
Never Give Up


Originally published at https://www.einpresswire.com/article/650434221/august-18-climate-activists-embrace-the-resilient-spirit-of-never-give-up-day