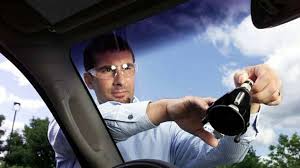 A Comprehensive Guide to Windshield Repair and Sustainability
The gentleman on site repaired rock chips on my windshield. He was helpful, kind, and had my windshield fixed in no time at all! I would definitely recommend!"
— Candace W.
HOUSTON, TEXAS, UNITED STATES, September 7, 2023/EINPresswire.com/ — Patsco Windshield Repair, a leading windshield repair company in Houston, TX, is pleased to unveil an in-depth exploration of the repairability of cracked windshields. In a world where sustainability and responsible consumption are paramount, understanding that cracked windshields are repairable is crucial for vehicle owners and the environment alike.
Cracked windshields have long been seen as a hassle and a significant expense for vehicle owners. However, Patsco Windshield Repair is on a mission to change this perception by highlighting the importance of windshield repair and its positive impact on the environment and one's wallet.
The Economics of Windshield Repair
Patsco Windshield Repair emphasizes that windshield repair is not only feasible but also economically advantageous.
Cracks and chips on windshields can occur for various reasons, such as rock impacts, temperature fluctuations, and accidents. Many vehicle owners are quick to assume that they must replace the entire windshield, but this is often not the case.
Windshield replacement can be expensive, with costs ranging from hundreds to thousands of dollars, depending on the make and model of the vehicle. In contrast, windshield repair is a much more affordable option. Patsco Windshield Repair experts can typically fix cracks and chips for a fraction of the cost of replacement.
Environmental Impact
One of the most compelling reasons to opt for windshield repair rather than replacement is the positive environmental impact. Replacing a windshield consumes a significant amount of energy and resources. Manufacturing a new windshield requires raw materials, energy, and transportation, all of which contribute to carbon emissions and environmental degradation.
By choosing windshield repair, vehicle owners can significantly reduce their carbon footprint and promote sustainability. Patsco Windshield Repair is committed to eco-friendly practices and ensures that every repaired windshield contributes to a greener future.
Technological Advancements
In recent years, windshield repair technology has made remarkable advancements. Patsco Windshield Repair has invested in state-of-the-art equipment and employs highly skilled technicians to provide top-notch services. These advancements have made it possible to repair windshields with greater precision and effectiveness, ensuring that the repaired windshield is as safe and reliable as a new one.
Safety Considerations
Some vehicle owners may be concerned about the safety of repaired windshields compared to replacements. Patsco Windshield Repair is proud to emphasize that repaired windshields are not only safe but often even stronger than before the damage occurred. This is due to the advanced resins and repair techniques used, which restore the structural integrity of the windshield.
To ensure the utmost safety of repaired windshields, Patsco Windshield Repair adheres to the highest industry standards and follows strict safety protocols. Vehicle owners can trust that their repaired windshields will provide the same level of protection as a new one.
Preventing Further Damage
Another crucial aspect of windshield repair is preventing further damage. Cracks and chips can spread over time, especially in extreme weather conditions or when subjected to vibrations from driving. Choosing prompt windshield repair can prevent the damage from worsening and ultimately requiring a more costly replacement.
Insurance Benefits
Many insurance policies cover windshield repair, often at little to no cost to the vehicle owner. Patsco Windshield Repair works closely with insurance companies to streamline the claims process, making it convenient and hassle-free for customers. This ensures that vehicle owners can prioritize safety and sustainability without breaking the bank.
Customer Testimonials
Patsco Windshield Repair has earned a stellar reputation for its commitment to quality, sustainability, and customer satisfaction. Here's what some of their satisfied customers have to say:
"I had a nasty chip on my windshield that I thought I'd have to replace. Patsco Windshield Repair fixed it so well; I can't even tell where the chip was!" – Jody G.
"Choosing Patsco for windshield repair was the best decision I made. Not only did I save money, but I also feel good about reducing my environmental impact." – Debi J.
"The technicians at Patsco are true experts. They explained the entire process to me, and the repair was quick and flawless. Highly recommend!" – Ismail A.
Conclusion
In an era when sustainability and responsible consumer choices are paramount, understanding that cracked windshields are repairable is crucial. Patsco Windshield Repair is dedicated to spreading awareness about the economic and environmental benefits of windshield repair. With advanced technology, safety assurance, and a commitment to customer satisfaction, Patsco Windshield Repair is leading the way towards a more sustainable and cost-effective solution for vehicle owners.
For more information about Patsco Windshield Repair and their services, please visit https://patscowindshield.com or contact:
Media Contact:
Patsco Windshield Repair
Reginald McClane
5635 NW Central DR Suite E-100
Houston, TX 77092. USA
(281) 804-0933
E-Mail: [email protected]
About Patsco Windshield Repair
Patsco Windshield Repair is a leading windshield repair company in Houston, TX dedicated to providing top-notch windshield repair services. With a commitment to sustainability, advanced technology, and customer satisfaction, Patsco Windshield Repair is the preferred choice for vehicle owners looking to save money and reduce their environmental impact.
Patrick McClain
Patsco LLC
+1 281-804-0944
email us here
Visit us on social media:
Facebook
Twitter
LinkedIn
Instagram


Originally published at https://www.einpresswire.com/article/654232842/cracked-windshields-are-repairable-patsco-windshield-repair-explains-why