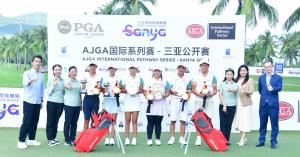 Shijun Jing (Fourth from Left) from boys division and Yi Wang (Fifth from Left) from girls division won AJGA International Pathway Series – Sanya Open titles
Shijun Jing at AJGA International Pathway Series – Sanya Open
Yi Wang's Winning Putt at AJGA International Pathway Series – Sanya Open
SANYA, HAINAN, CHINA, October 16, 2023 /EINPresswire.com/ — With a final round -5 under 67, Shijun Jing, overcame a four-shot deficit to prevail as the boy's champion with a -9 under, 207 total. While in the girl's division, Yi Wang secured the championship on the first playoff hole after finishing tied at -9 under 207 in the 54-hole AJGA International Pathway Series (IPS) – Sanya Open held at Yalong Bay Golf Club.
Jing's final round included eight birdies, with the most critical coming on the 16th, with overnight leader Haoyi Wang only managing a par on the relatively short par 5. Jing was then able to maintain his one-shot advantage over the final two holes.
Originally from Jinan, Shandong, the 15-year-old Jine also won this year's HSBC National Junior Golf Championship in Shandong and the CLPGQ Xiamen Series.
On his win, Jing said "The Pathway Series provides a good platform for junior players to compete. It's my first AJGA tournament and I'm thrilled to win." Talking about his future goals, "I'll compete in AJGA tournaments in America next year, hope to get good results there as well."
The girl's division saw an exciting final round with China #1 Zixuan Wang the 36-hole leader by 2 continuing her strong play with a final round -4 under 68, however, Yi's final round included 7 birdies and finishing with a -6 under 66 leading to a playoff.
Playing the par 5 9th hole both players put themselves in a strong position for birdie, with Zixuan facing a downhill 12-footer which she narrowly missed. With an uphill putt 6 feet, Yi was able to secure her first win on the Pathway Series.
"This amazing platform provides more opportunities for players to participate in tournaments in America, it's also of great assistance for players aiming to go to U.S. colleges like me." And this victory is also the best reward for Yi's efforts.
"The first two days I felt I played a little too aggressively, I gave it a shot in the final round, and the overall performance is still very good. I'm very excited to win, I've waited a long time to be AJGA fully exempt." After winning the title, Yi said happily, "I will play AJGA in the U.S. next year, this will make it a lot easier."
Yi's mother spoke highly of the IPS, "AJGA IPS landing in China is a great asset for both golf parents and junior players. We are able to save costs and compete for AJGA full exemption and PBE star status in China. The AJGA IPS – Sanya Open is very professional. The seminars are also very helpful for parents."
For more information about the IPS, please contact [email protected] and stay tuned.
Being famed as the Hawaii of China, Sanya's miles of coastline, tropical climate, and upscale resorts truly meet travelers' expectations. The Sanya Open has attracted over 300 domestic and foreign players and family members from 8 countries and regions including China, America, Thailand, Canada, and New Zealand. Sanya Tourism Board and local high-quality tourism enterprises launched exclusive tourism products for participating families to explore some of Sanya's most spectacular local cultural, natural, and religious sites. Followed by the Mid-Autumn and National Day holidays, some families spent a recharged and relaxed holiday in Sanya after the game.
AJGA International Pathway Series
PacificPine Sports
+8613632612493
[email protected]


Originally published at https://www.einpresswire.com/article/662040351/jing-crowns-boys-champion-wang-prevails-in-girls-playoff-at-ajga-international-pathway-series-sanya-open