Mount Pleasant Mayor Will Haynie, SC7 leader Dr. Tom Mullikin, and SC7 Expedition hikers cross the Ravenel Bridge linking the Town of Mt. Pleasant and the City of Charleston, Monday, July 24, 2023.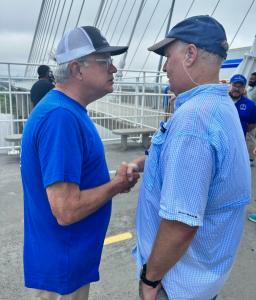 Charleston Mayor John Tecklenburg (L) and Mt. Pleasant Mayor Will Haynie greet one another at the midway point on the Ravenel Bridge, Monday, July 24, 2023.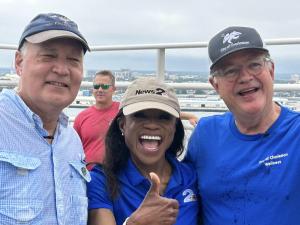 Mt. Pleasant Mayor Will Haynie, WCBD-TV NBC NEWS 2 anchor Carolyn Murray, and Charleston Mayor John Tecklenburg on the Ravenel Bridge, an SC7 Expedition destination point, Monday, July 24, 2023.
The mayors of Charleston, S.C., and neighboring Mt. Pleasant meet mid-bridge in support of 4th-annual expedition from the mountains to the sea
CHARLESTON, SOUTH CAROLINA, USA, July 25, 2023/EINPresswire.com/ — Linked by the 2.5-mile Ravenel Bridge spanning the historic Cooper River in South Carolina is the City of Charleston and the Town of Mount Pleasant from which their respective mayors John Tecklenburg (Charleston) and Will Haynie (Mt. Pleasant) hiked and met mid-bridge along with throngs of supporters, Monday, July 24.
The mayors' meet-up on the bridge was part of the 4th-annual SOUTH CAROLINA SEVEN (SC7) Expedition from the mountains to the sea which began July at the Chattooga River in the Upstate and will conclude in Beaufort County, July 30.
Why SC7? "We are hiking to create awareness," said Dr. Tom Mullikin, SC7 leader and chair of the gubernatorially established S.C. Floodwater Commission. "We are also teaching to create a greater understanding, and we are embracing to unleash passions to protect our environment and build meaningful resiliency strategies."
A joint venture between the Mullikin-founded Global Eco Adventures and the S.C. National Heritage Corridor (SCNHC), the month-long SC7 Expedition across South Carolina parallels much of the state's Palmetto Trail showcasing S.C.'s seven natural wonders and creating a greater awareness of S.C.'s sterling natural resources and how to protect them. Litter sweeps, river cleanups and other environmental cleanups, and trail repairs are taking place along the way.
The seven designated wonders of South Carolina include Sassafras Mountain; the Jocassee Gorges; the Chattooga River; the Congaree National Forest; the Edisto River; the Ashepoo, Combahee, and Edisto Basin (universally referred to as the ACE Basin); and Bull Island-Cape Romain National Wildlife Refuge: "Each one a unique geographical treasure," according to Mullikin.
SC7's Chief Logistics Officer Michelle McCollum is president of the SCNHC. She and Mullikin both say this year's participation has been "nothing short of phenomenal" in terms of physical participation, attending media coverage, and general readership numbers from SC7-related articles published in newspapers, magazines, on broadcast media (TV and radio) websites as well as social media: Reaching 15.5 households through print media, television, and radio according to a third-party monitoring agency. And that was before Charleston.
Much embracing and handshaking took place mid-span on the Ravenel Bridge within view of Patriots Point and its permanently anchored aircraft carrier USS YORKTOWN, Monday. But the work doesn't end say SC7 officials, supporters, and sponsors. "We think it's important to work alongside community partners to ensure that the natural beauty of South Carolina is enjoyed by generations to come," said Duke Energy S.C. Pres. Mike Callahan during a recent SC7 press conference at the S.C. State House in Columbia. "Duke Energy is proud to be the lead sponsor of the SC7 expedition and its statewide focus on protecting, restoring and building resiliency in our natural environments and local communities."
Duke Energy is the presenting sponsor for this year's SC7 Expedition. Also partnering with SC7 is the Medical University of South Carolina (MUSC) and Blue Cross Blue Shield of South Carolina which are the named health and wellness sponsors for 2023. The S.C. Department of Parks, Recreation, and Tourism is SC7's Ecotourism sponsor.
SC7's sponsors have had representation along most of the entire SC7 trek winding its way from the Upstate through the Midlands and then the coast (Myrtle Beach and Conway this year) and the Lowcountry.
Among those on the bridge Monday was Dr. Susan L. Johnson with MUSC Health. "I am here to represent MUSC," she said. "But I am also here because I personally am so passionate about this cause."
SC7 now winds its way deeper into the Lowcountry and will conclude Sunday along the Spanish Moss Trail in northern Beaufort County.
– For more information about SC7 and to follow along daily through the SC7 field guide, visit http://southcarolina7.com.
Michelle McCollum
SC7
+1 864-617-7441
email us here
Visit us on social media:
Facebook
Instagram
South Carolina Lt. Governor Pamela Evette discusses the importance of SC7 from the trail in Myrtle Beach, S.C. earlier this month.


Originally published at https://www.einpresswire.com/article/646281427/mayors-meet-mid-bridge-over-the-cooper-river-in-sc7-destination-event