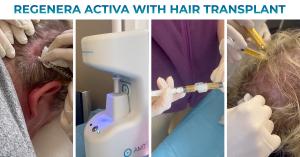 Dermatologist Dr. Oyku Celen apply Regenera Activa before hair transplant operation
Newly hair transplant method: Studies says hair transplant with Regenera Activa provides successful and permanent result
Regenera Activa ® application before the hair transplant has been proven that increase in values such as hair density, hair shaft thickness, hair follicle number and cumulative hair thickness."
— Dermatologist Doctor Oyku CELEN
ISTANBUL, TURKEY, November 2, 2023 /EINPresswire.com/ — In today's society, the most common cause of hair loss in both genders (almost 50% of men and women over the age of 50) is hair loss due to androgenetic alopecia. Since androgenetic alopecia is a multi-factorial disease in which genetics plays a significant role, its treatment is very limited and not permanent. Studies show that drugs such as minoxidil and finasteride, which are frequently preferred by patients, have been proven to have a very limited effect on only 1 in 3 patients when used for 1 year. In addition, the fact that these drugs have serious side effects (such as sexual reluctance, seborrhea, erythema, excessive hair growth in different parts of the body) and that their effects are not permanent have led to the development of different and permanent methods for the treatment of hair loss.
𝐏𝐞𝐫𝐦𝐚𝐧𝐞𝐧𝐭 𝐚𝐧𝐝 𝐄𝐟𝐟𝐞𝐜𝐭𝐢𝐯𝐞 𝐌𝐞𝐭𝐡𝐨𝐝𝐬 𝐀𝐠𝐚𝐢𝐧𝐬𝐭 𝐇𝐚𝐢𝐫 𝐋𝐨𝐬𝐬
As we mentioned at the beginning of our article, cosmetic or topical products are insufficient in the treatment of hair loss and their effect is very limited. It would be more advantageous to use such products for hair care after a permanent treatment against hair loss, such as hair transplantation. Apart from these, some effect can be seen in the treatment of hair loss with the PRP method applied directly to the scalp, but the intensity of hair loss and the excess of the area with shed hair cause PRP sessions to be performed continuously, so it is not a permanent treatment method. In light of these developments, "hair transplant" stands before us as the only permanent option, and being the only permanent method allows further developments in this field.
Dermatologist Doctor Oyku Celen has developed a different method that will directly contribute to hair transplant results with the hair transplant in Turkey operations she has been performing for more than 10 years and the international seminars, conferences and events she has attended. Regardless of the hair transplant method used (FUE or DHI), with the Regenera Activa ® application before the hair transplant operation, the grafts and existing hair transplanted after the hair transplant; It has been proven that there is a visible increase in values such as hair density, hair shaft and strand thickness, hair follicle number and cumulative hair thickness.
𝐖𝐡𝐚𝐭 𝐢𝐬 𝐑𝐞𝐠𝐞𝐧𝐞𝐫𝐚 𝐀𝐜𝐭𝐢𝐯𝐚 𝐚𝐧𝐝 𝐒𝐡𝐨𝐫𝐭-𝐓𝐞𝐫𝐦 𝐄𝐟𝐟𝐢𝐜𝐚𝐜𝐲 𝐨𝐟 𝐇𝐚𝐢𝐫 𝐋𝐨𝐬𝐬
Autologous Cellular Micrografts are converted into a "super cell solution" through the Regenera Activa ® device, which is managed with a special solution with 3 or 6 grafts from the ear or the nape of the neck (because the hair in this area remains healthy and strong) experiencing hair loss. This prepared product is collected in problematic hairless areas. It is called Autologous Cellular or Stem Cell Treatment because it consists of the hair loss problem of the individual. Hair transplant alone may be helpful with this method applied in a single session, but this method is definitely not an alternative method to hair transplant; It is a method that "supports" the hair transplant operation and ensures that both existing and newly transplanted grafts remain healthy and strong.
𝐇𝐨𝐰 𝐑𝐞𝐠𝐞𝐧𝐞𝐫𝐚 𝐀𝐜𝐭𝐢𝐯𝐚 𝐈𝐦𝐩𝐫𝐨𝐯𝐞𝐬 𝐇𝐚𝐢𝐫 𝐓𝐫𝐚𝐧𝐬𝐩𝐥𝐚𝐧𝐭 𝐑𝐞𝐬𝐮𝐥𝐭𝐬
According to research conducted on 140 patients between the ages of 18-65 with hair loss problems using the Regenera Activa procedure alone since 2021 ( https://www.ncbi.nlm.nih.gov/pmc/articles/PMC10205879/ ):
– 58.2% increase in Hair Density,
– 95.8% increase in average hair root thickness,
– 87.5% increase in hair thickness percentage,
– 26.6% increase in cumulative hair thickness,
– It has been observed that there is a 4% increase in the formation of new hair follicles.
With this,
– 7.6% decrease in the percentage of thin or weak hair strands,
– It was observed that there was a decrease of 36% in the frontal region and 42.9% in the temporal region in the density of yellow spots seen in the hair follicles due to alopecia.
The baldness rates of the patients participating in this study were Hamilton–Norwood Class II, Class III, and Class III Vertex for men, and Sinclair Grade 2, Grade 3, Grade 4, and Grade 5 for women, and the results of this study were obtained as a result of a 3-6 month period.
Since the autologous cellular micrograft method has effective results in a single session and in the short term, and has a strengthening effect on both existing hair follicles and future hair in the long term, Dermatologist Doctor Oyku Celen performs the Regenera Activa ® procedure together with the hair transplant operation, making it truly one of the hair transplant techniques. She has developed a method that affects "hair transplantation results".
According to the research results given above, before and after photos taken from the patients, and as stated by dermatologist doctor Oyku Celen, like many dermatologists in the world, it appears that the application of Regenera Activa together with hair transplant is much more effective than just hair transplant or only Regenera Activa procedure. In addition, Regenera Activa is a single-session procedure with FDA approval and can be easily performed before the hair transplantation operation. Considering its ease and results, it is one step ahead of others.
𝐂𝐨𝐬𝐭 𝐨𝐟 𝐇𝐚𝐢𝐫 𝐓𝐫𝐚𝐧𝐬𝐩𝐥𝐚𝐧𝐭 𝐰𝐢𝐭𝐡 𝐑𝐞𝐠𝐞𝐧𝐞𝐫𝐚 𝐀𝐜𝐭𝐢𝐯𝐚 𝐢𝐧 𝐓𝐮𝐫𝐤𝐞𝐲
Regenera Activa is being launched worldwide as an alternative to hair transplant and the price of autologous cellular micrograft method is very high but the number of clinics that use hair transplant and Regenera Activa application together in Turkey is almost nonexistent, so it is difficult to determine the average cost of hair transplant with regenera activa in Turkey , but cost of regenera activa in Turkey starts from $900 with dermatologist Oyku Celen.
Dermatologist Doctor Oyku CELEN
Dermatologist Doctor Oyku CELEN Clinic
+90 546 446 99 26
email us here
Visit us on social media:
YouTube
Facebook
Instagram
Regenera Activa Process and Explanation


Originally published at https://www.einpresswire.com/article/664355907/newly-hair-transplant-method-studies-says-hair-transplant-with-regenera-activa-provides-successful-and-permanent-result