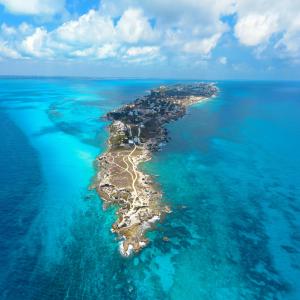 78% of travellers from the UK chose to explore the Mexican Caribbean during their visit to Mexico
LONDON, UNITED KINGDOM, November 10, 2023 /EINPresswire.com/ — Covering an expansive area of over 50,000 km² and boasting unparalleled tourist facilities, the state of Quintana Roo, situated on the eastern coast of Mexico, is home to 12 world-renowned destinations that have captured the hearts of visitors from across the globe. Among these, the city of Cancun, Cozumel Island, Playa del Carmen, Holbox, and Tulum, all graced by some of the finest beaches in the Americas. These destinations offer a wealth of complementary experiences, immersing visitors in activities ranging from archaeological exploration and sports to adventure and relaxation.
With this exceptional array of offerings, the Quintana Roo Tourism Board is participating in the World Travel Market London 2023. At this important event, they are sharing the advantages of hosting European tourists, with a particular focus on those from the United Kingdom.
UK tourists accounted for 4.55% of the 8,298,941 international visitors to the Mexican state in 2022, showcasing a remarkable growth of 470.41% compared to 2021 and demonstrating a vital recovery in the post-pandemic period.
Out of 565,000 total UK travellers to Mexico, an impressive 78.38% (443,000 individuals) selected Quintana Roo, making it their top destination in the Mexican Caribbean
Most UK visitors (83%) travelled to Quintana Roo for relaxation, followed by honeymoons (6.4%), attending weddings (4.1%), and leisure activities such as diving and snorkelling (3.7%). UK travellers stayed for an average of 10.9 days, with 64% opting to experience Quintana Roo's excellent all-inclusive packages.
With a wide array of activities to choose from in the state, tourists frequently prioritized visits to archaeological sites (29.6%), followed by aquatic adventures (20.4%)) exploring nearby cities (20%), and, in fourth and fifth place, visits to recreational parks (20%) and the cenotes and caves route (16.3%).
Out of the total visitors, 64.3% travelled as couples, 25.7% with family members, 7.8% with friends, and 2.2% embarked on solo journeys, highlighting how the 12 destinations in Quintana Roo and their numerous activities cater to diverse types of travellers.
Of the 9.7 million international visitors to Quintana Roo in 2022, 15.11% hailed from Europe, marking a remarkable 142.05% increase from the previous year. Among European travellers visiting Mexico (2.3 million), an impressive 62.85% chose Quintana Roo as their preferred tourist destination.
Javier Aranda, Director of the Quintana Roo Tourism Board, says: "Quintana Roo is a destination that provides year-round summer experiences and a comprehensive offering for European tourists. Here, travellers can indulge in a wide range of activities tailored to every type of adventurer. Simultaneously, they can immerse themselves in the rich Mayan culture, the enchantment of the Caribbean, and the natural beauty that abounds, all supported by world-class tourism infrastructure and unbeatable connectivity with direct flights to seven UK cities. This underscores the significance of this market for our state,"
Data Source: National Institute of Migration and Civil Aviation of Mexico.
Ken Hooper
Wilful
+44 20 7467 5823
[email protected]


Originally published at https://www.einpresswire.com/article/667361241/quintana-roo-the-gem-of-the-mexican-caribbean-makes-it-mark-at-the-world-travel-market-london-2023