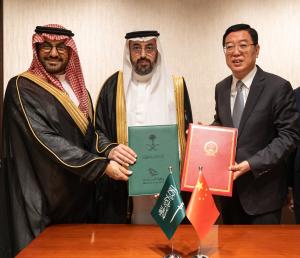 RIYADH, SAUDI ARABIA, September 27, 2023 /EINPresswire.com/ — Today, following the signing ceremony in Beijing in the presence of His Excellency Abdulrahman Ahmad Al-Harbi, Ambassador of Saudi Arabia to China, Fahd Hamidaddin, Chief Executive Officer of Saudi Tourism Authority and Du Jiang, Vice Minister of Culture and Tourism, P.R. of China, Saudi Arabia was officially granted Approved Destination Status (ADS) by the People's Republic of China. The bilateral agreement, signed on behalf of the Ministry of Tourism of Saudi Arabia allows Chinese citizens to travel to Saudi Arabia in group tours in addition to facilitating greater ease of access to the Kingdom.
The achievement of Approved Destination Status is a significant milestone for Saudi Arabia that will drive greater connectivity between the Kingdom and China and unlock new opportunities across the tourism ecosystem. The announcement comes after continued bilateral ties between both nations, including the success of the Arab-China Business Conference and the Saudi-China Roadshow earlier this year, demonstrating Saudi Arabia's commitment to become an economic and strategic partner to China.
His Excellency Ahmed Al-Khateeb, The Tourism Minister of Saudi Arabia said, "Underpinned by China's Belt and Road Initiative and Saudi Arabia's Vision 2030 – a historic reform blueprint aimed at driving forward meaningful economic and social development – China and Saudi Arabia are unlocking limitless opportunities and driving forward mutually beneficial collaboration. The ADS status is expected to significantly boost inbound travel from China, creating greater ease of access needed to reach Saudi Arabia's target of attracting 3 million Chinese tourists by 2030. Today signifies the culmination of months of dedicated efforts between our nations, encapsulating our enduring and historic bilateral relations, which is built on the foundation of shared vision and mutual interests. China's expansive connectivity vision is meticulously designed to foster economic prosperity and secure a brighter future for forthcoming generations. Within this framework, tourism emerges as one of the most pivotal and strategically significant components of our shared journey."
Du Jiang, Vice Minister of Culture and Tourism of P.R. China said, "I am delighted to sign the ADS agreement with Saudi, one of our key Belt and Road Initiative partners, as we mark the 10th anniversary of the Belt and Road Initiative this year. Our decades of close bilateral bond have shown that our nations share a deep appreciation for each other's rich and diverse cultures and are committed to fostering mutual understanding and respect. ADS, with its potential to enhance people-to-people exchanges and dialogue, is a testament to this shared vision."
Fahd Hamidaddin, Chief Executive Officer of Saudi Tourism Authority said, "With the prestigious ADS status as our foundation, we will continue to work closely with our partners like GACA, as we facilitate the rapid expansion of air connectivity between our two countries. We are also streamlining our visa services, offering e-visas in just under three minutes and visas on arrival. Additionally, we have integrated Chinese payment solutions like UnionPay to facilitate seamless payment for Chinese travelers. Offering over 162 bespoke products to the Chinese market, STA looks forward to deepening our collaboration with Chinese online travel agencies and companies. Together, Saudi Arabia's tourism sector is poised to deliver extraordinary experiences, fueled by a commitment that knows no bounds."
In the months leading up to the ADS signing, Saudi Arabia announced several key initiatives with the all-important China market in mind. The country's flag carrier SAUDIA launched direct Jeddah-Beijing and Riyadh-Beijing flights, in addition to daily flights from Guangzhou, signifying a growing demand for connectivity between both nations.
The achievement of ADS will unlock opportunities for greater collaboration with China and build on existing partnerships in Saudi Arabia, such as the alliance with UnionPay, which is accepted by half a million merchants across Saudi with over 60% coverage, providing Chinese visitors with seamless payment routes. China has already been included as one of 57 countries eligible for Saudi's e-visa and visa on arrival, as well as enjoying free hotel stays when flying onwards on SAUDIA as part of Saudi's 96-hour Stopover Visa program.
Other key initiatives include the launch of the VisitSaudi.cn portal in Mandarin, Mandarin signage at Riyadh airport, and joint marketing campaigns with leading travel trade partners to create excitement all year round. Chinese holidaymakers can also take advantage of special hotel offers courtesy of local Destination Management Companies (DMC), with attractive deals inviting them to discover Saudi Arabia on their terms. Currently, Saudi Arabia offers 162 products in China. Through these collaborations, Saudi Arabia is driving a China-ready strategy, which aims to create bespoke and dynamic experiences for Chinese travelers.
Find out more about Saudi Arabia's tourism offerings on the VisitSaudi.cn website.
Ministry of Tourism
Ministry of Tourism
email us here


Originally published at https://www.einpresswire.com/article/658049795/saudi-arabia-grants-approved-destination-status-by-china-unleashing-vast-tourism-opportunities-between-both-countries