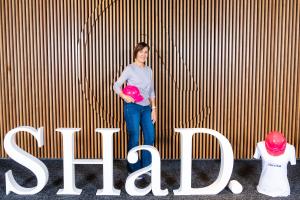 Tracy L. Prigmore, Founder/Managing Partner, TLTsolutions & She Has a Deal, co-sponsor and partner in the Redlands land acquisition with SHaD alum, Jeni Jackson.
Purchase of Redlands Property Signals Expansion of SHaD's California Real Estate Portfolio
I'm proud of our achievements at SHaD, and this ground-up development represents the success we aim to achieve in increasing the number of women owning and developing commercial real estate."
— Tracy Prigmore, Founder, She Has a Deal
TYSONS CORNER, VA, UNITED STATES , October 6, 2023 /EINPresswire.com/ — She Has a Deal (SHaD), a leading real estate education and investment platform dedicated to creating new pathways to hotel ownership and development for women, announces the acquisition of land in Redlands, California by its CEO and Founder, Tracy Prigmore, in partnership with 2023 SHaDPitch program alum, Jeni Jackman. Earmarked for the development of a Tru by Hilton property, this land purchase and vision marks a new milestone for the organization as the first ground-up development by an alumna of the program.
Situated on a prime 1.6-acre site adjacent to I-10, the upcoming hotel will feature 90 thoughtfully-designed and functional guest rooms, a communal lobby space and all of the modern amenities that the Tru by Hilton brand is known for. The property, expected to open in 2025, is significant as one of the first Tru by Hilton properties in California. Tru by Hilton is known for its highly efficient and profitable hotel model. Situated in the growing Inland Empire, Redlands is acclaimed for its beautiful historic downtown area, tree-lined streets, and charming architecture just outside of Los Angeles. As well, this acquisition marks the second California property purchase in the SHaD portfolio. In summer of 2023, Prigmore partnered with impact wine brand founder Jill Osur of Teneral Cellars on the acquisition of a 40-acre estate with vineyards, winery and luxury hotel, the Grand Reserve Inn at Wilderotter Vineyard in the Sierra Foothills wine region of Northern California. The property fund established by Prigmore and Osur is 80% funded by women investors.
For this Redlands land acquisition deal, Prigmore, also Managing Partner of Real Estate Investment and Development Firm, TLTsolutions, is co-sponsoring the project with Jackman. Through her work, Prigmore helps others build generational wealth with alternative investments in real estate. With a sterling record of transforming real estate ventures into lucrative assets through strategic asset management and disciplined investment strategies, she has expanded the portfolio to encompass multi-million-dollar real estate assets across multiple states.
"I was inspired to start She Has a Deal because of the challenges I faced in purchasing my first hotel, despite my extensive real estate experience and business background," said Prigmore. "I'm so proud to be working on this Tru by Hilton development project with Jeni to ensure that she doesn't face the same challenges I did, and that we increase the number of women owning and developing commercial real estate."
Jackman is a seasoned professional with over two decades of experience in deal structuring and construction project management. Holding both a Master of Architecture and an MBA from Arizona State University, she is currently Director of Construction for a family office specializing in lodging and retail with several select service hotels in California. This is her first hotel development and investment in her own property.
"I've always wanted to be more involved in ownership and development, and after participating in SHaDPitch, I'm proud to be a sponsor and owner. It's a big shift for me, all thanks to She Has a Deal, " stated Jackman.
Jackman was a participant in the SHaDPitch 2023 Today's Woman cohort, designed for participants with established careers in hospitality, real estate, or finance aspiring to become hotel owners or expand their portfolio. As with other SHaD projects, the pair received key legal support from Samantha Ahuja, Esq., of Greenberg Traurig, LP a long-time supporter and sponsor of She Has a Deal. To celebrate the fifth season of the pitch competition, a goal has been set to close five Today's Woman hotel deals. Five SHaDPitch participants will be personally mentored by Tracy Prigmore and have access to funding from the SHaD Prosperity Fund.
States Prigmore, "I'm proud of our achievements at She Has a Deal over the last four seasons, and this ground-up development represents the success we aim to achieve. I'm confident we can reach this goal by providing Today's Woman participants with access to our network and funding."
About She Has a Deal.:
Founded in 2019, She Has a Deal (SHaD) is on a mission to increase the number of women owning and developing hotels by creating new pathways to hotel ownership + development for women. They work to accelerate the growth of determined and capable women in the hospitality and commercial real estate industry through their education and investment platforms. SHaD has built an ecosystem to foster opportunities for women in the investment side of the industry. For more information visit https://shehasadeal.com.
For additional information and media inquiries, including comment from SHaD founder, Tracy Prigmore, please contact Erin Hunt Moore of Verdant PR & Marketing at [email protected] or SHaD directly at [email protected].
Erin Hunt Moore
Verdant PR & Marketing
+1 917-544-3222
email us here
Visit us on social media:
Facebook
Twitter
LinkedIn
Instagram


Originally published at https://www.einpresswire.com/article/660159364/she-has-a-deal-announces-land-acquisition-for-pioneering-women-led-ground-up-hotel-development-in-california