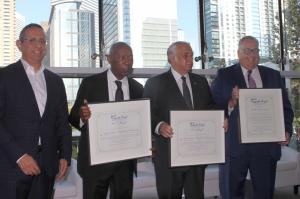 The Mayor of Houston and the Secretary of Tourism of Mexico together with Special Guests at the Ribbon Cutting Ceremony of the Houston Travel Fest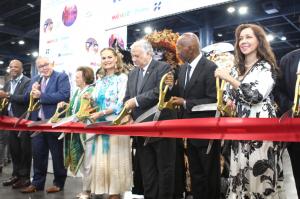 The Mayor of Houston and the Secretary of Tourism of Mexico together with Special Guests at the Ribbon Cutting Ceremony of the Houston Travel Fest
Landry´s Joined the Celebrations at the Houston Travel Fest
• Houston the ideal place for a new travel show
• Connecting to over 240 domestic and international destinations
• 4th Largest City in the US
We recognize today Jorge Franz, Sr. VP at Houston First, and his generosity towards building relationships among the travel industry, helping us connect with everyone was key to this endeavor."
— Jorge Cadena, Organizing Committee
HOUSTON, TEXAS, UNITED STATES, October 5, 2023 /EINPresswire.com/ — THE HOUSTON TRAVEL FEST
THE WORLD COMES TOGETHER THROUGH THE JOY OF TRAVEL
• Houston the ideal place for a new travel show
• Connecting to over 240 domestic and international destinations
• 4th Largest City in the US
As Houston becomes the host of the first ever travel trade show held here, the Opening Day of the Houston Travel Fest was full of joy as the travel industry celebrated this achievement. The Houston Travel Fest was inaugurated by the Mayor of Houston, Sylvester Turner and the Mexico Minister of Tourism, Miguel Torruco.
Joining the Mayor and the Minister of Tourism were, Janis Burke, President and CEO of Houston Sports Authority, Jim Szczesniak, Director of Operations of Houston Airport System, Reginald Martin, Chairman of the Board of the Houston Hospitality Alliance, Erika Boyd, Executive Director of the Texas Travel Alliance, Dr. Laura Murillo, President and CEO of the Houston Hispanic Chamber of Commerce, Julie Charros, past-President of the US-Mexico Chamber of Commerce The Woodlands Chapter, and Hector Tejada, President of CONCANACO Mexico as well as top executives from Aeromexico, Volaris and Viva Aerobus.
More than 25 destinations and 100 exhibitors from Houston, other parts of Texas, Mexico and around the world, were present at this event in which more than 180 travel agents had over 2,100 business appointments in this market that connects to over 280 domestic and international destinations.
The Mexico Minister of Tourism highlighted, during his presentation to local and international travel professionals and exhibitors, the close relationship between Mexico and the United States, in which Mexico recorded the arrival of over 40 million international visitors, and airlines from the US, increased business to Mexico in 2022 in well over 23.7% , compared to 2019.
With six airlines flying to and from 22 destinations in Mexico into Houston, the opportunities to increase business through leisure travel between both parties is endless. Houston is the only airport that has a direct flight from Mexico City´s new airport, Felipe Angeles International Airport (AIFA), connecting to 7 other cities in Mexico. Here is another opportunity for Houston to increase arrivals from different parts of Mexico.
"The relationship between Houston and Mexico is better than ever, so we have to continue working together to make it grow even faster," said Miguel Torruco, Minister of Tourism of Mexico, as he thanked Mayor Sylvester Turner for inviting him to this event, with whom he assured that he will continue working hand in hand to promote tourism between both destinations.
The Mayor of Houston, Sylvester Turner, highlighted the actions that have been carried out in conjunction with the Minister of Tourism of Mexico, whom he recognized for strengthening and improving the relationship between Mexico and Houston.
"This is a joyous occasion", said Jorge Cadena, President of the Organizing Committee of the Houston Travel Fest, "we are gathered here today not only to celebrate travel in Houston, but to celebrate two great leaders; Mayor Sylvester Turner and Secretary of Tourism Miguel Torruco," as he presented the Partnership Award to both for inspiring everyone to come together at the Houston Travel Fest.
The Award for Global Connection was presented to Jorge Franz, Sr. VP of Tourism and Trade Relations of Houston First, one of the main sponsors of the event, "we recognize today Mr. Franz´s generosity towards building relationships among the travel industry, we are indebted to him for partnering with us to put together this event, helping us connect with everyone was key to this endeavor", added Jorge Cadena.
The authorities of Mexico and Houston, together with the special guests, toured the exhibition area where they visited exhibitors from over 20 states of Mexico, hotels, airlines, travel professionals from Houston and beyond.
JORGE CADENA
Smart Strategic Marketing, LLC
+1 832-948-4440
email us here
Visit us on social media:
Facebook
LinkedIn
Instagram


Originally published at https://www.einpresswire.com/article/659984916/the-houston-travel-fest-where-the-world-comes-together-through-the-joy-of-travel