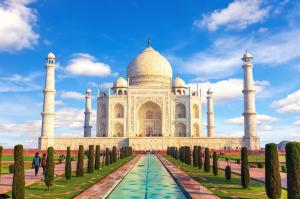 UTTAR PRADESH, INDIA, November 2, 2023 /EINPresswire.com/ — Uttar Pradesh Tourism is set to participate at the World Travel Market (WTM) London, starting from 6th to 8th November 2023, at ExCel London. As a prominent participant at the global tourism showcase, Uttar Pradesh Tourism invites visitors to explore the heartland of India at Stand No. S11-302.
Uttar Pradesh Tourism Board aims to promote the state as a prime international tourism destination catering to all categories of tourists and visitors by showcasing the values of cultural diversity, harmony and the depth of civilisation that represents the State of Uttar Pradesh.
World Travel Market London is the leading global event for the travel industry, providing a unique platform for professionals to network, negotiate, and discover the latest industry trends. It attracts exhibitors and attendees from around the world, making it an ideal setting for Uttar Pradesh Tourism to showcase the diverse and rich offerings of the state.
Uttar Pradesh is the 4th largest state in India, majorly known as the land of epics, holy rivers, ancient cities and pilgrimage. A place where great sages have emerged, religions have evolved, and two of India's greatest epics are said to have been written: Ramayana and Mahabharata. The cities are strewn with various spiritual sites and lakes that were commissioned under the patronage of the mighty dynasties that held the throne at different points in time.
There are a number of forts & fortresses in Uttar Pradesh. The most famous among them are The Agra Fort, The Jhansi Fort and The Allahabad Fort. The Taj Mahal is regarded as one of the world's most iconic monuments and is recognized as one of the Wonders of the World. It features the impressive intellectual splendour of Mughal architecture. The cultural alleys of Uttar Pradesh are equally heartwarming, as on the one hand you can get satiated with a variety of food, from biryani to kebabs, korma and sweets, while on the other hand you can find brass and bronze ware from Moradabad, glassware and bangles from Firozabad, locks from Aligarh, and zardozi and silk sarees from Varanasi. Kanpur is a shopper's delight, especially noted for its exquisite leather products and cotton fabrics.
Uttar Pradesh has stood for secularism by welcoming a host of religions: Hindu, Jainism, Islamic, Buddhist, and more, so people can experience unity with diversity here. Its spiritual and pilgrim destinations like Varanasi, Mathura, Vrindavan, Kushinagar, Sarnath, Shravasti, Ayodhya and Pragyaraj attract scores of devotees and travellers. The state is also the origin centre of Kathak, one of the eight classical dances of India, making it a prominent cultural centre. Additionally, It is also opulent in wildlife, encompassed by 24 wildlife sanctuaries and national parks like Dudhwa National Park and Okhla Bird Sanctuary.
The state is an emerging economic powerhouse in India, warmly welcomes global investors, extending a diverse array of investment prospects across sectors. With a robust infrastructure, strategic geographical positioning, and a proactive, business-friendly environment, the state emerges as an enticing destination for international investors in pursuit of robust returns. Crucial sectors like manufacturing, information technology, renewable energy, tourism, and agriculture exhibit tremendous growth potential, fostering a sustainable investment ecosystem. The government's proactive policies ease of doing business initiatives and dedicated support for investors further enhance the investment landscape.
Uttar Pradesh Tourism's participation at WTM London 2023 is a testament to the state's commitment to providing an all-encompassing travel experience. From the enchanting historical monuments to the vibrant cultural festivals, the state unfolds a captivating narrative that transcends the ordinary.
RAFAEL RODRIGUEZ
URBAN EVENTS RODRIGUEZ
email us here


Originally published at https://www.einpresswire.com/article/665806089/uttar-pradesh-tourism-to-showcase-its-diverse-offerings-at-wtm-london-2023